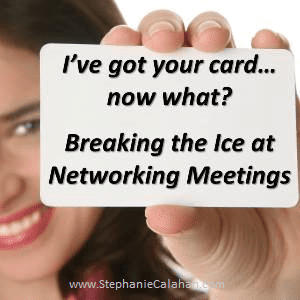 Business Networking!  It is either something you love to do or something you would rather not do. 
Many of my clients tell me that they would rather have a root canal than go to a local event to network!
Does that feel familiar?
Maybe that is because you don't make the most of the meetings you go to.
Maybe that is because you are uncomfortable and feel like that kid that stood on the wall at school dances.
There are a number of elements to effectively networking and growing relationships that ultimately grow your business.  Being comfortable with those elements helps you to unleash your potential!
The first step is to BREAK THE ICE!  Today, my expert panel shares some tips that help them open up conversations and begin to build relationships. Read through their tips and share some of your own ok?
I asked them
When you have the opportunity to meet someone face-to-face, what is your most effective networking tip for breaking the ice?  How do you start a conversation that turns into something more than talk of the weather?
1. Do Your Homework!
Research the event ahead of time- if there's anyone you'll want to network with scheduled to attend, like a keynote speaker or other presenter, have a question or conversation idea in mind for them. If a list of event attendees is unavailable, choose a trending or timely relevant topic to start conversations. Like the Boy Scouts say, be prepared! A great way to put someone at ease is to know something about them or at least know something about their field. People love to talk about themselves!
Thanks to Jeff Mann of about.me/jeffreyjohnmann
2. The "Magic" Ice Breaker For Networking Events
When attending networking events, how do you break the ice? There is one "magic" strategy that works every time to get people talking. Instead of talking about you, ask questions and listen! Once you are introduced start asking about their business. Start with "Tell me about your business goals" and next thing you know they are telling you all you need to know and think you are the most interesting person they've talked to all day!
Thanks to Tina Cochran of Master Your Weight
3. Ask About Business Pain
I have learned from a wonderful coach that a successful networking relationship is built by clearly understanding and asking about a business's pain. I usually attempt to do this at an event by asking "What's your biggest business pain right now?" What I find out is immeasurable. Some times I can help, and often it's something that someone else I know can help much more effectively. In this way, I create a more lasting connection and resource others while building trust with someone new.
Thanks to Cena Block of Sane Spaces
4. How To Network With Ease & Get Results
1. Be visible. Dress sharp and snappy. Look like someone others want to know because your image says "success." Be willing to attend functions alone. Networking expands your circle of influence, builds your personal brand & garners support.
2. Give before you get. Sow before you reap. Share information and resources with contacts before asking them for anything. Search for their interests & goals when meeting someone new. Figure out a way to HELP them. Position yourself as the "go to" person.
Thanks to Pam Perry of Social Media PR Solutions, LLC
5. Knowing In Advance!
Before you meet somebody and start a great conversation, you need to know what they are looking to get out of that gathering/meeting. Keep their outcome in mind in order to start the conversation. This will guide you to say something interesting, based on their interests, desires and outcomes.
Do not try to sell yourself. If they do not know you, they wouldn't care.
If you have a good reputation in their eyes, before they meet you, that's completely different game!
Thanks to Chris Diamond of Time Management For Business Owners | Double Time Today
6. Make Them A Star
When I prepare to meet someone for the first time face to face to network, I first go to their web site and also Google them to find out as much as I can about their business and interests. Then I prepare a folder with that information – usually with a capture of their picture on the top of the stack. Now I am prepared to show them that I am truly interested in them and what they do. I let them notice the folder & I start the conversation with " I notice that you …. Tell me more about that…
Thanks to Jonda Beattie of Time Space Organization
7. Reprogram WIIFM
Remember the old adage "people buy from people they know, like, and trust"?
It all starts with getting to know someone. However, many people are more concerned about perfecting their self-introduction rather than focusing on getting to know you as a person.
New connections need to know that you care about them and are interested in their success first and foremost.
How will you let them know? These 3 words say it all. The magic phrase: TELL ME MORE.
Thanks to Lisa Marie Platske of Upside Thinking, Inc.
What do you do to break the ice?  I know your tips will help other readers, so take a minute to share them ok?
Live Fully -- Love Openly -- Laugh Often -- Leverage Your Brilliance -- Connect Authentically -- Get Your Message Out -- Serve with Impact -- Prosper Everyday