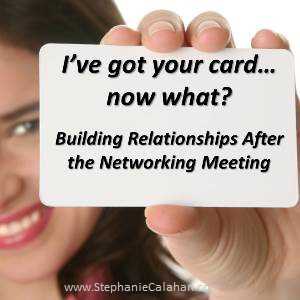 A while ago I wrote about how followup is one activity that many entrepreneurs fail to do, yet it is also the one activity that can really make you stand out from your competitors.  
Think about it!  If very few business owners are able to effectively follow up after networking with someone, shouldn't that be a "no brainer" thing for you to get into place today?
Effective networking is about more than collecting cards.  It is more than small talk over a drink.
It is about making a connection that will last and build your business.
Today, my a few from my expert panel share their techniques for following up to build relationships. Read through their tips and share some of your own ok?
I asked:
How do you make sure that you stay in contact and grow a relationship after meeting someone for the first time at a networking meeting, trade show or other event?  What is your most effective technique?
1. Keep It Going!
If you want to grow the new relationships you make, there are 2 steps.
One: Develop an organized way to maintain your new contact info. Contact Keeper makes great products to save business cards and keep notes and other important info on new contacts.
Two: When you do follow up with a new contact, add value. Do your research, and follow up with useful information your new contact can use. It will show you're a valuable resource and looking to share. People love "win-win" scenarios.
Thanks to Jeff Mann of about.me/jeffreyjohnmann
2. Networking Is Like Dating, It's All About Them
Follow up within 48 hours. That means a personal email or phone call, not adding them to your mailing list. Remind them where you met and mention something that impressed you. If you use social media ask what tools they use and connect there as well. Then ask to meet in person to hear more about THEM and their business. The key is keeping the focus on getting to know each other not selling.
Thanks to Tina Cochran of Master Your Weight
3. Make Time, Take Action
I try to get permission to add connections to my list when I meet them. After, I book a half-day after an event to do any or all of the following:
– Follow up with a phone call if I've had a particularly compelling connection.
– Send a Sane Spaces Tips Card (either via SendOutCards or ones I have via Vistaprint)
– Send "Nice to meet you" note via Constant Contact with an invite link to sign up for my FB, blog & ezine. Follow up is crucial for me to actually turn connection into business.
Thanks to Cena Block of Sane Spaces
4. Advance, But Do Not Push!
Most people make the mistake to push things, in order to reach certain resolution.
When you have a great conversation with somebody, and things go smoothly, you seem to get along with each other, always advance to the next level. At the end of each conversation, there needs to be "what's next?"
During the event, say, "Hey, after this is over, let's meet for a cup of coffee to discuss more 'x.' "
If you wait until the last moment and the event is over, you are pushing, not advancing!
Thanks to Chris Diamond of Time Management For Business Owners | Double Time Today
5. Be The Early Bird
The very same day of the first meeting, while their information is still fresh, I send a follow up email with a line or two about something we discussed. If I have not gotten a response in a day or two I follow up with a request for a one to one meeting and in that request state what it is about their work that fascinates me.
Thanks to Jonda Beattie of Time Space Organization
Responses compiled by Stephanie LH Calahan of Calahan Solutions, Inc.
What do you do to follow up?  I know your tips will help other readers, so take a minute to share them ok?
To your success!