As I work with clients and talk with colleagues, delegation is often a topic of conversation. I might hear something like:
"I know I'll be stuck at this point if I don't change something. I just have not found a good system yet."
or
"It's such a pain figuring out how to not have things fall through the cracks."
or
"We're just not getting stuff done. I've tried delegating through email, google and drop box. None of it is working."
Then I found Lisa Montanaro who loves her task manager. So, I asked her to sit down with me and tell me about it. Maybe it can be your new secret weapon too.
Lisa shared:
"I use Asana for task and project management, and the app is on my iPhone and iPad, so I can see all of my tasks at a glance and add to them if needed. Oh Asana, how I love thee…"

Finding someone that is in love with their task manager and can delegate effectively to others with the same system while living a mobile lifestyle is something I wanted to know more about and thought you might too, so I asked Lisa Montanaro to talk with me to share more.
Lisa is a productivity consultant, success coach and business strategist so she knows a thing or two about task management tools!
Welcome Lisa!  Thanks for agreeing to talk to me about Asana. 
I'm enjoying a new love affair… with my task management tool! And I am willing to share. So let me introduce you to Asana. Trust me, you will thank me.
Asana is an Internet based software that is a powerful task manager. You can organize tasks by category, track due dates, and access the information from anywhere. You can add notes or attachments to them, share with others, and lots of other bells and whistles. It gives you a place to list all of your projects, tasks and to-do's that is portable, allows you to access it from any device, can be used by up to 15 team members, and is free (yes, free!).
Asana allows you to dump your brain into an electronic format so that you don't have to remember everything yourself! Asana makes it easy to create, assign, follow, and comment on tasks, so you always know what's getting done and who's doing it.
That sounds fantastic! Can you tell us about some of the features?
1 – Manage all of Your Projects and Tasks With Ease — At its core, Asana is a task management tool. The idea is to do a Brain Dump and put all of your tasks into Asana. You can then organize your tasks into categories. I like to color code my categories so I can easily get a visual snapshot of the different types of categories represented by my tasks. The tasks view splits the screen into sections — Today, Ongoing, and Later — which allows you to get a glimpse of which tasks are imminent, coming up, or can wait until the future. You, of course, choose which section to drop a task in. You can set a due date, and even sych the due date to your calendar.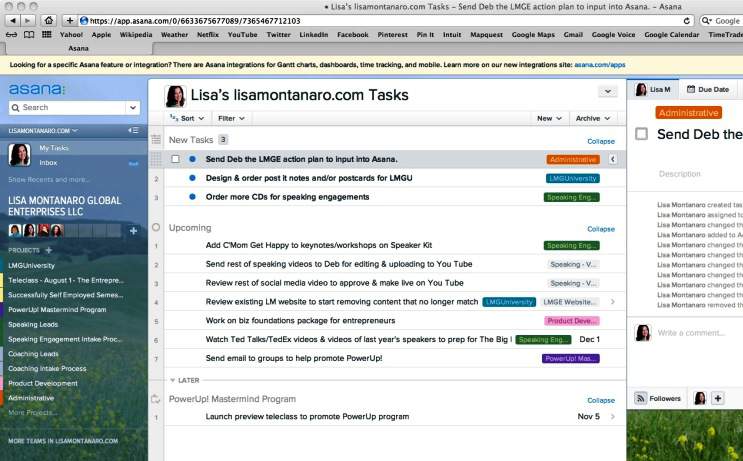 (click image to view larger)
2 – Keep Your Team Coordinated and Aligned to Their Goals – Asana is great for an individual to use on a personal or professional basis, but it shines brightest when you have a team of people coordinating ideas, tasks, projects and due dates. As a small business owner, I use Asana as a project and task management tool to help me operate my business effectively.
Asana allows multiple users to share ideas, tasks, and projects in one place. It provides seamless communication and coordination, which cuts down on meetings and status reports, not to mention miscommunication.
Currently, I have 4 users on Asana, including me. I can assign a task to someone on my team, and he/she can assign a task to me. I can tag a team member to follow one of my tasks to keep him or her in the loop. Team members can make comments on each other's tasks and projects. In fact, the feature in Asana that shows everything that's ever done to a task is one of the best features for a team!
Essentially, Asana puts conversations and tasks together, so you can go to one place for all the history of the work. For example, if the due date changes for a task, it shows who changed the due date and when. This is a powerful feature for keeping track of what is going on in a small business, which is how I use it. But it can be used for so many multi-user projects, such as planning an event, running a committee or board together, etc. The uses are endless. If you have a team and the vision of a one-stop shop that can track all of the tasks involved in that team's work, Asana will be the answer to your prayers!
3 – Declutter Your Email Inbox – One of the coolest features of Asana is the ability to take an email from your inbox and assign it to yourself as a task in Asana. I'll just take an email containing a task I want to assign to myself or one of my team members, and forward it to [email protected] It will then show up in Asana with the attachments and everything from the email intact. This helps declutter your inbox, and add the task to your task list and/or calendar so that you actually get the task done!
4 – Reminders, Notifications and Calendar Integration – One of the most useful features is that I set up Asana to send me an email everyday that shows me my most imminent tasks. The email shows a list of tasks, the project they are assigned to, and their due dates. It is a wonderful snapshot of my to-do's in one handy place. If I had set up the integration feature with my Google Calendar, it would insert the tasks on my calendar according to due date. I have chosen not to set up that feature, as I like to determine where in my calendar to place my tasks, but I like that it is an option, and you may too.
You have me interested now!  What should we consider when deciding if Asana is the right choice? Is there a big learning curve?
The learning curve for Asana is fairly simple. You can learn how to use most of the basic features in a very short period of time. One really useful feature is that the company provides awesome video tutorials of how to maximize it. They maintain a blog that I follow to stay up on the latest uses. And they even show how they use Asana in their own business, at Asana headquarters. Those are my favorite videos because you are getting creative and clever suggestions from the people that are actually designing the product!
Are there any limitations of the tool?
There are a few limitations to Asana, but in my opinion, none of them are deal breakers (they haven't caused us to "break up").
Asana does not includ a contacts database. I keep my contacts in a separate database and don't see a need to integrate them with Asana. But if that is something you want to have in your task management app, then be forewarned that it is not included.
It also does not have a template or set up for following up on leads. However, you can easily set up Lead Tracking as a category and then include tasks underneath it. In fact, since Asana was created to be flexible and powerful enough for every team to be able to customize it, you can do some really cool and useful things. For example, I set up a category for tracking Speaking Leads, Coaching Leads, etc. This allows me (or one of my team members) to put in leads that we want to follow-up with and track them in a central location. Thus, even though technically some businesses may feel that Asana has some missing pieces, it is easy to plug those holes by creating a custom category with a tasks list underneath it.
Another possible limitation is that Asana may not be as visually appealing as some other task/project management apps. Asana does have a few design themes to choose from to customize your experience from a design standpoint, but if you are looking for extremely fancy design, I wouldn't go with Asana. However, to me, the design is pleasing enough, and I'd rather focus on what it does than how it looks.
One other caveat… as with most apps, the interface looks and functions slightly different depending which device you use. I think this is so common with apps these days, that I wouldn't let this stop you from harnessing Asana's power. Just get used to how it looks and functions on each device and you are good to go.
What about investment?  What is the cost to use Asana?
The basic model, which allows for up to 15 members and unlimited projects and tasks is free!  🙂
You sure can't beat that!  Thanks for sharing.  I know I'm interested in checking it out and I bet many of my readers will be too!
You are welcome. Check out Asana. Maybe you, too, will be counting the ways you love it!
To receive Lisa's free Toolkit, Achieve Powerhouse Success with Purpose, Passion & Productivity, visit www.LisaMontanaro.com/toolkit.