Time management experts all over the globe tell us to get the tasks out of our head an onto To-do lists.
To-do lists are really great for keeping us organized and focused where we should be focused. If followed, they help us get through our day and actually have gotten something done by the end of the day.
But, what if I suggested that I am starting to move away from solo To-do lists and I think you should consider it too?
What if you turned your To-Do into a To-BE?
"Doing" and "BEing" are truly combined, yet we often only put focus on the doing part. What if, at the end of a busy day or busy week, you could review and see that what you did helped you get clear on your strengths? What if your relationships grew and you were living a more balanced life while seeing amazing results?
Let me share a few examples of how this could work for you.
What You Might Choose to BE
As you go throughout your day, you have many options for how to receive and respond to what occurs. When you choose to BE a particular way, it impacts how you receive and respond. Here are a few choices, but there are many more that you could select for yourself.
| | | | | | |
| --- | --- | --- | --- | --- | --- |
| Accepting | Ambitious | Anticipation | Aware | Awe | Benevolence |
| Calm | Charity | Comforting | Contented | Confident | Courageous |
| Curious | Delighted | Diligent | Elated | Empathetic | Excited |
| Faith-full | Forgiving | Friendly | Generous | Glad | Grateful |
| Happy | Hopeful | Humility | Intentional | Interested | Joyous |
| Kind | Loving | Modest | Open-minded | Passionate | Patient |
| Peaceful | Satisfied | Surprised | Trusting | Willing | |
Choosing to BE Can Change Your Outcome
Just to illustrate, here is a simple example of choosing.
Let's start with two choices of how to BE in your day: Frustrated or Forgiving
Situation: You are driving down the interstate and someone speeds past you and swerves into your lane.
If you choose Frustration: You get angry and maybe say a few swear words. Irritation mounts as you think about how inconsiderate that person was. It might even stay with you all day bringing down the rest of your interactions.
If you choose Forgiveness: You are shocked that they came close, but realize that they may have something urgent on their mind. You think of all of the reasons they may be in a hurry or examples of when you had been in a rush. Maybe they are rushing someone that has gotten hurt to the doctor. Maybe they excited because they just got news that their daughter had a baby and they are rushing to meet him/her. Maybe they just got yelled at by their boss and they are having a bad day. You consider the various reasons the person may have acted in that way on the road and choose to forgive them and wish the best for them. You move on with your day and don't think about it again.
This is just one generic example, but I hope you can see how by intentionally choosing how to BE at the beginning of the day, it can impact quite a bit.
It's About Being Your Bigger You
We all have our "smaller self" and our "bigger self." When I'm feeling afraid and hiding out, it is my "smaller self" that is running the show. When I'm fearless and stepping out to help others, my "bigger self," my "more expansive self" is running the show.
I don't know about you, but that more expansive "bigger self" is much more fun when I let her come out and play!
I talk with business owners after my workshops, keynotes and presentations as well as with my private clients and often the question of "how do I step into my bigger self?" I tell them it really can be as simple (not necessarily easy, but simple) as choosing who to BE that day.
Daily Intention Setting
Do you have an accountability partner or coach? One of the things that I have my private clients do (and I practice myself) is an intentional BEING practice.
Who do you intend to BE today? What characteristics or qualities of your bigger self do you intend to practice today?
Start the day by intentionally identifying who you are going to BE in your day. Then, as you go through your day, check in to see how well you are sticking to that intention. How has it impacted your choices?
I have an on-line web form that my clients will often use to report in at the end of their day. It is amazing to see progress over a 30 day period when they begin to intentionally decide who they want to BE.
Example Using Networking
I have built my business around collaboration and networking, yet when I first started my business I would have rather gone and gotten a root-canal than go to a networking meeting.
I simply did not like putting myself out there.
Yet, I knew that if I stayed hidden in my office, my business would not really grow the way I would like it to.
At first, I forced myself to go to events. I would walk in the room and instantly feel out of place and usually left without talking to too many people.
That was not working for me! I was "doing", but not very well.
Then I decided to incorporate "being" into my "doing."
I figured that if I went to a networking meeting, there had to be at least one other person that did not want to be there. If I was authentically compassionate and welcoming to that one person, then I would help make their day better and I would not be a "wall flower" at the event.
So, I decided to BE authentically compassionate and welcoming.
It worked! I lost my "smaller" self-conscious feelings because I was looking to help someone else. I continued to use this technique for years at every networking meeting I went to and taught it to others too.
As a result, I've had the blessings of meeting some really amazing people; but that never would have happened if I had not chosen my BEing.
Are You Willing to Try It?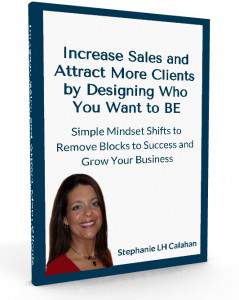 Your challenge for this week, should you choose to accept it, is to start your day by deciding who you are going to BE in the day. Pick one to three BEing words. There is no need to do more and you can always pick different ones for the next day. Then, BE those things through your day and see how your results differ.
There is no better time to start than now!
If you'd like to dive deeper, get the Transformation Quick Start Guide! Sign up below.





Live Fully -- Love Openly -- Laugh Often -- Leverage Your Brilliance -- Connect Authentically -- Get Your Message Out -- Serve with Impact -- Prosper Everyday