Today's question is about Pinterest marketing. When Pinterest first came on the scene there were many people that blew it off as a frivolous app, but boy were they surprised. It has turned into a content marketer's dream and many business owners report that they get more traffic from Pinterest than anywhere else.
Community Question – Hidden Pinterest Image
"I heard on a podcast today that I'm supposed to have a hidden long image in each one of my posts, because those are the ones that work best on Pinterest. Being an eager-beaver, I googled that. I got even more confused. Is there a magic plugin to do those hidden long images? Thank you!" ~ someone who wishes to remain anonymous
Hi! Great question! I wondered this for a long time. Today I'll share how to easily create a Pinterest image as well as how to hide it in your post using a fabulous plugin called Social Warfare.
Easy Way to Create Your Pinterest Image
There are many different graphic design programs available today. Some are for serious designers and some are more for people like me, people who are looking simple and visually appealing.
Canva.com is a design tool that is extremely easy to use and comes with pre-formatted shells for all of the popular social media platforms.
Click "Create a design"
Select the Pinterest Option – It will open up a new window with a blank canvas that is formatted for optimal Pinterest size
Design! You can start from scratch or you can pick one of their pre-formatted selections.
Save
Click download and select where you want to save the image
Shrink the image using TinyPMG
Upload to your site
Hiding Your Pinterest Image in Your WordPress Blog
Now we are going to get fancy, but don't worry.  It is really pretty straight forward.
•  Get and install Social Warfare Pro. I cannot say enough good things about this plugin. I've watched the guys that developed it and they continue to listen to their community and make improvements. This plugin gives you a tremendous amount of flexibility, but does not slow down your site. When you install the plugin, a new section will be added to your WordPress post editor. It will look like this:
•  Scroll to the Pinterest section and click the "Add Media" button. It will take you to the familiar media images windows where you can upload your image. Remember to optimize the image too!
•  Click select to add the image to social warfare as a hidden image.
•  Add your Pinterest description in the Social Warfare designated field. This is what the share buttons will automatically place in the pin. This is a 140 character opportunity to have the pins say exactly what you would like, as many people do not change the pre-populated message.
That's it! No complex html or crazy html stuff. Just upload and save.
Using Social Warfare is an easy way to hide a Pinterest image on your WordPress site.
Click To Tweet
Example of Hidden Pinterest Pin on a Post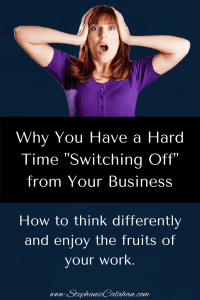 Here is an example of all of this in action.  If you go to Why You Have a Hard Time "Shutting Off" from Your Business you will see that there is no long image shown on the public post.
When you click the Pinterest share button, however; a graphic that looks like this one shows up.
The image was created in Canva as described above and hidden using Social Warfare.
Resources to Strengthen Your Pinterest Know-How
Now that you know you can easily create images and set up your social sharing to optimize the images, I thought you might want to dive deeper into Pinterest knowledge. Here are a few resources that I think you'll like:
General Pinterest Tips
Manly Pinterest Tips – Jeff Sieh delivers tips and strategies on how to grow your business using Pinterest. You can choose to read blogs, listen to his podcast or watch his videos. Any way that you learn, he has a resource for you.
Are You Making These Pinterest Mistakes? – If you are already on Pinterest, but want to make sure that you are getting it right, McKinzie Bean shares some what-no-to-do in this post.
How I gained 1000 Pinterest Followers in Less than 2 Months – Marie Tehillah shares the steps she took to significantly grow her visibility on Pinterest.
How to Grow Your Blog Traffic with Pinterest Group Boards – Aryanne Johnson has done research for you and created a resource with 70 pinterest group boards, how to join them, and the pinning rules. Joining and participating in group boards is a great way to give your posts bigger reach.
10-day No-Cost Pintastic Skills E-course – Kyla Sims offers a quick get-you-started- Pinterest skills e-course that you can do in just 15 mins a day.
Traffic and Sales
Pinterest Traffic and Sales Masterclass – Dre Beltrami created a fantastic no-cost course to walk you though everything you may want to know about how to drive traffic to your sales pages.
How To Use Pinterest To Grow Your Blog –  McKinzie Bean gives you a check list of must dos to get the most out of Pinterest
The Quick and Dirty Guide to Pinterest Marketing –  Brian Manon shares 5 strategies to optimize your time on Pinterest
The 28 Pinterest Tips I Used To Massively Grow My Blog's Traffic – Allison Marshal has had some fabulous success driving traffic to her blog using Pinterest – 800% in 4 months! She shares how in this post.
7 Proven Steps to Grow Your Email List on Pinterest – Elna Cain shares how to use Pinterest to get bigger visibility to your opt-in pages for giveaways and content upgrades. She shares a lot of great examples and tips on how to optimize your site for Pinterest traffic.
Ask Steph – Tips, Tricks and Strategy for Clarity, Visibility and Profit
This is a no-cost program that is open to everyone! Every other week, I'll select and respond to a question received  that I believe will help the most people. (You can choose to remain anonymous if you wish with my full support.)  If you have a question it is certain that 100s of other people do too, so don't be shy.

Live Fully -- Love Openly -- Laugh Often -- Leverage Your Brilliance -- Connect Authentically -- Get Your Message Out -- Serve with Impact -- Prosper Everyday

Disclosure: Some of the links on this page are affiliate links. That means that I may get a small thank you commission (at no additional cost to you) if you choose to purchase a product from the company mentioned. I only refer you to programs that are ran by people I personally know or I have participated in, but please use your judgement to decide if this is right for you. If you would prefer that I not get that, feel free to Google the company and purchase directly.