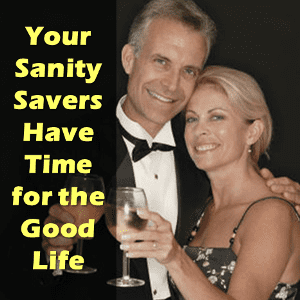 Most everyone has a bit of a different definition of what the "Good Life" is. However, I can guess that many do NOT have "I love to be interrupted from my focus" as one of them!
Interruptions can be a huge time waster! Today there are more ways than ever to get interrupted, someone at your door, phone, cell phone, pager, instant messaging, email and more. Gain control of your environment by practicing some of these tips.
A while ago, I wrote a post with a number of techniques to manage interruptions. Today I'll share a few more.
Stand Up to Greet People Who Come to Your Space – By standing, you control the length of the interruption. Inviting the individual to sit invites a longer interruption.
It is OK to Say "No" – Tell people "No," shut your door or put up a "do not disturb" sign to protect your work time. When you do, inform the individuals who need your help when you will be available.
When You Cannot Avoid Interruptions… – Some businesses are just conducive to interruptions. This is especially true when your business deals with direct public interaction. When an interruption cannot be avoided, leave yourself a reminder of where you were. When the interruption is over, you will have a much easier time picking up where you stopped.
Take Time to Slow Down – Most of our mistakes when we are in a hurry aren't that drastic, of course, but we can never know the far-reaching implications of things that we do poorly because we don't give them the time and attention they deserve. It's in our control, though — we can choose not to hurry, and though we may be a bit late or later with the finished product or to get to our next destination, remember that life was meant for living, not hurrying. Get the most out of where you are — right here, right now.
And lastly, just for a little fun, You Might be A Workaholic If…
According to Dr. Donald E. Wetmore of Productivity Institute-Time Management Seminars, you might be a workaholic if: – If you are looking forward to Christmas this year because you'll decide to take that afternoon off – If you don't drink any beverages during the day because you'll lose time having to go to the bathroom – If a Pay-Per-View movie is your idea of a vacation – If twenty minutes is too long for a lunch "hour" – If hobbies are something you will get into when you "get the time."
While interruptions are not good for your productivity, not taking breaks can be just as bad. As with many things in life, take all good things in moderation. By finding ways to minimize those time wasters you will have the ability to really enjoy the time you have!
What do you do? Have you ever tried any of these techniques? Did it work for you? Did it not? Let me know by commenting in the comment section at the bottom of the posting page where it says "comment."
To your success!