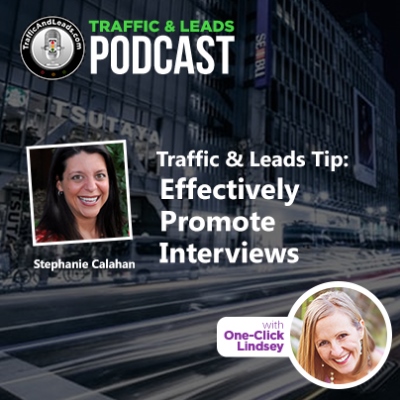 Traffic and leads are the life-blood of any online business. Heck, they are at the foundation of any business! When you have traffic and leads you have the opportunity to connect and sell to clients/customers.
Lindsey Anderson, aka One-Click Lindsey and I got together and talked about a specific type of traffic and lead generation – leveraging your experiences as a guest expert.
We talked about how to find opportunities and then how to squeeze every bit of opportunity you can out of your interviews on on radio, podcasts, web shows, webinars, etc.
Media Type: audio
Length: 30:08
Listen Now!
Cost:  no cost, just click play!
You'll Hear
00:00 Introduction and background on Stephanie
03:25 Understanding what a purpose-driven entrepreneur is
05:10 My business model and how I make sure I stay joyful in the work I do
07:00 How I finds clients
08:30 How Guest Appearance Gold started – how I was inspired to create it.
11:16 How I formatted the guide to make it easy to digest
12:50 What to do before you try to get on more podcasts
14:14 How to find podcasts that are in your niche area of focus
16:48 What you need to know before you pitch a show
17:20 Create your own joint venture introduction network
19:36 My experience on both sides of the mic
21:05 How to generate leads after being on shows – syndication examples
23:27 Building your credibility through social proof
24:20 How to generate leads after being on shows – re-purposing examples
26:28 Delegation is totally possible with this stuff
27:57 Go get Guest Appearance Gold and connect with me on social media!
29:04 Closing
Resource(s) I Mentioned
Global Speakers, Radio Show Hosts, Authors, Publishers and Media Experts
My Interviewer: Lindsey Anderson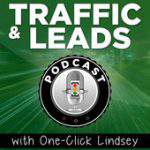 Lindsey Anderson, aka One-Click Lindsey, is the founder & host of the Traffic and Leads Podcast, a weekly show where she interviews top professionals that know how to generate traffic and leads for your small business. The Traffic and Leads podcast is all about inspiring and educating you to take the steps necessary to generate the most important two things for your small business. Traffic and leads become clients.
Back to you!
So what did you think? Did anything stick out to you from our conversation? I'd love to hear about it. Share in the comments or shoot me an email.
Live Fully -- Love Openly -- Laugh Often -- Leverage Your Brilliance -- Connect Authentically -- Get Your Message Out -- Serve with Impact -- Prosper Everyday