This past week I was having a conversation with a colleague and she asked me how I was able to keep all of my various contacts straight. 
She tells me, "Between face-to-face networking, social networking, clients, prospects and people downloading stuff from my website it is tough for me to keep all of my out reach organized!"
I can relate!  I have to admit, this was a much easier task for me before I got heavily involved with social media.  Back when I had to keep track of phone conversations, email and face-to-face it was simply much easier to do!
When I asked her what she did to manage all of her communications she showed me a pile of sticky notes on her desk.
She shared that she was often forgetting important followups and conversations that she had because they would get lost in the piles.  Sound familiar?  Then stick around, because I'm going to share my secret weapon today!
The Old Way Looks Something Like This
Since most of us deal with more than just a small handful of contacts on a daily basis, the question of why we need a system to handle it is obvious.
Here is an example of an interaction that my client had prior to putting a CRM in place:
Prospective client calls on the phone about a speaking project and a meeting gets scheduled.
She meets with the client and discuss the possible keynote and workshop and ends the conversation feeling great about the prospect.
Proposal is created and sent.
Three weeks go by without hearing from the prospect.
She forgets about her prospective client.
Her prospective client is lost due to no follow up.
There is a general feeling that something was forgotten that haunts my client.
When you only have a few clients or prospects this probably doesn't happen often, but now that we have this amazing ability to connect with people over LinkedIn, Twitter, Facebook, our Blogs, and so many other places, it soon becomes almost impossible to stay on top of who said what without a little help.
Powerfully Productive businesses know that effective follow-up is critical to success and my powerhouse tool is my CRM system. CRM stands for Customer/Client Relationship Management.
Why Not Sticky Notes or a Notebook?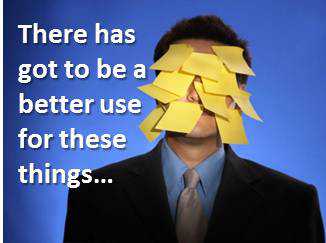 Sticky notes have their place for fast reminders in the day, but if you are like me, too many around can become like wall paper — you start tuning out the environment because there are too many of them.  Not to mention, sticky notes have a tendency to accidentally get stuck to the backs of other things and get lost!
Sure you could write it all down in a notebook, have a followup file too, but with the way most of us are mobile and how our devices are synced these days with calendars and apps, finding a good system that allows you to access it anywhere makes sense to consider.
What is a CRM?
Put simply, a CRM tool if used correctly, can help you manage all of the communication you have with your prospects, clients/customers, people you network with, jv partners, service providers and more.
A good CRM is more than an address book.  It is your memory — only organized! 
For example, say you met someone at a networking meeting a year ago and had a conversation with that person.  You can record the key pieces of the conversation in your CRM.  Then, the next time you interact, you will be able to remember that person had 2 kids, loves baseball and was interested in your core service.  You can track relevant information and ACT on it and personalize the communication by remembering things that the average person would not.
There are many great and many not-so-great CRM tools on the market and it would take more time than I have today to talk you through how to pick one, so let's assume that you are already through that step.  If you are not and need some help, let me know!
Once you have your CRM in place, develop a strategy to track follow ups — the simpler the better!
Using a CRM Could Look Like This
Strategies for CRM use need to be created specifically to your situation, however; here is an example of how the above process was modified to work for my client:
Prospective client calls on the phone about a speaking project and a meeting gets scheduled.
A new contact get entered into the CRM with as much detail as is available.  Contact is tagged as 'prospect.'
She meets with the prospect and they discuss the possible keynote and workshop and end the conversation feeling great about the event.
She enters the project details into the CRM and a task is created to create and send a proposal.
Proposal is created and sent.
She creates a task in the CRM to follow up in one week.
One week passes without hearing from prospect and CRM reminds her to follow up.
Follow up email is sent with another task triggered to remind her to follow up in a week.
Two weeks pass without hearing back from prospect and she is reminded by the CRM to followup – this time with a phone call.
She gets the work and the prospect is now re-tagged to 'client'.
or she don't get the work and she re-tags the prospect with 'nurture prospect' and the prospect is put on her long term mailing list so she stays in front of them.
You Get Paid Back Enormously When You USE the System
Once you've identified your CRM system, it does involve time entering information.  Record every correspondence or conversation you get into the CRM immediately. Yes, this may seem like a waste of time.  Yes, I do spend time and have VAs that spend what might seem like a lot of time updating my CRM.  
However, proof is in the results! Since my client started using a CRM she has landed more work and JV partners simply because she's been able to stay in front of her contacts with timly followup and gentle reminders.  Doesn't more paying work sound good to you?
What Do You Do?
Do you use CRM software? Do you have a solution that works better for you? I'd love to hear what you've been doing to stay on top of your prospects and client tasks.
Live Fully -- Love Openly -- Laugh Often -- Leverage Your Brilliance -- Connect Authentically -- Get Your Message Out -- Serve with Impact -- Prosper Everyday