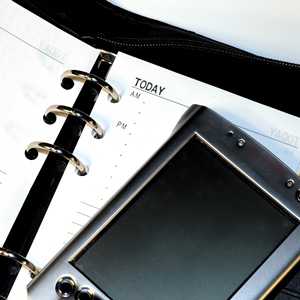 Keeping your day on track can often times be a challenge in today's schedule hectic environment. I have provided 8 tips for you to use to make your day go smoother.
Understand Your Body/Task Rhythm – It is important for you to understand your work rhythm. Do you like to work in long stretches or would you rather work in short bursts? Once you understand how you are most productive, schedule your day accordingly.
3 Questions To Ask Yourself – When planning your time, ask yourself the following questions to help you determine how to devote your time. Focus on what gives you satisfaction and less of what gives you negative (or no) rewards. — Is this something I could delegate/eliminate?
— Is there some way I could do this in half the time?
— Is this an objective that will truly make my life better/richer/fuller?
You Can Save Time If You Plan – Every minute that you spend PLANNING your day saves 3 to 5 minutes later on — and every minute planning your week saves 5 to 15 minutes. When you plan, leave at least 25% of your day free for the UNEXPECTED — and leave at least 15 free minutes on either side of each appointment for delays.
Take a Moment Each Day – Take a moment each day to be grateful. We often get clutter of the mind with all of the things we want to get done, all of the things we want to have, or all of the places we want to go. Remember to be grateful for all of the things that have been done, all of the things we do have and places we have gone. Take stock and keep things in perspective. It will help you face your obstacles as opportunities.
Time Management is a Misnomer — Understand Setting Priorities – Webster's defines MANAGE (the word from which management is derived) as, "to control the movement or behavior of." You can't control the movement or the behavior of time. It is finite. There are only 24 hours in a day — period. The definition itself sets up time management for failure. So the issue is not how to manage your time; the issue is how to prioritize your time. There's a big difference!
Myth Busting — To Be Organized Means You Need to Have Every Minute of Your Day Scheduled – While scheduling appointments, important projects, chores, responsibilities, and so on, is highly recommended, don't schedule 'every moment' of your day. Scheduling is the fine art of packing every day just full enough of the most useful activities. Never overload it. Your schedule needs to always allow you time for spontaneity.
Work to Be Good at Prioritizing Your Time – Good Time Managers do not allocate their time to those who "demand" it, but rather, to those who "deserve" it.
Combine Your Time – Look for things you can combine to save time and accomplish more. Walk your dog and you'll be exercising at the same time. Go to the beach with a motivational tape, and you'll be relaxing and getting inspired simultaneously!
Remember, organizing is about finding what you need when you need it. Different people have different thinking and communication styles. The science of organizing is the tip; the art of organizing is knowing which tips will work best for you. What do you do?
To your success!