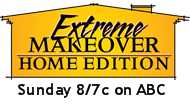 Hello! I realize that I have not written much this past month and I thought I would share why! A colleague of mine, Melanie Spurgeon of Design Built Homes, was selected as the builder for the Central Illinois Extreme Makeover: Home Edition. She contacted me in early October to see if I would be on the strategy team. Well, how could I refuse?
The Whirlwind Started Right Away
"So, when will the build begin?" I started to ask….
"On October 21," Melanie replied
"Of 2008??!!!" I said in disbelief. Then it sunk in, like big projects do for you too I would bet.
Accept and Deal With the Cards Dealt
Planning for a huge project is certainly ideal, but when you are going to build a house in one week, why would you have months to plan it? 🙂 OK, so into problem solving mode I went. It was going to be a hectic month. I received a CD and packet of materials and began studying for our first strategy meeting in a few days.
Lesson Implemented: Accept the situation for what it is. Sometimes things come into our lives that are not perfect, but are still very worth doing. Quickly evaluate the situation and take action (no dawdling.)
The Team Is Built
We had a lot to do and very little time to do it. So, a group of very talented business owners came together to help my colleague make this miracle happen. It was so great to see so many business owners that were willing to put their lives on hold to work the project. Each of us came to the table with a different set of skills and experiential background. We met and determined who would work on what aspect of the project and then got to work. (Oh, and did I mention, this was the first time a build has been done with a female lead builder and an all female strategy team?)
Lesson Implemented: When you have a big project and little time to accomplish it, get people involved that have the skills you need and then delegate!
Building a Home and Raising How Much Money?

As we all met with the builder for the first meeting we had the project time line confirmed. We also put our heads together on how we were going to be able to accomplish the fund raising we needed. The project itself was massive and we also wanted to pay the family's mortgage off. We laid everything out and were awed by the enormity of it all.
Lesson Implemented: Know what you are working towards and make the goals clear. Before we left that room that night, we were all on board that we were going to pay the mortgage in addition to the build.
Coordinating the Pieces
Even though there were a number of experts working on the project, the need for coordination did not stop. We quickly learned that email was not going to be the right choice (100s in one day!) Joy Duling recommended a web site service called basecamp that allowed us to collaborate on marketing, PR, volunteer needs, sponsors, donors, food needs and much more. The site was accessible to everyone at any time and eliminated so much email confusion!
Lesson Implemented: Use project management tools to help you keep your project running smoothly.
Tell Them and They Will Come
One of my responsibilities on this project was to create and build the energy, communication and social networking strategy and to partner with Chris Shay to make sure we were hitting all of the hot spots appropriately. So, ExtremeMakeoverUpdates.com was born. It was a blast to work on and continue adding to.
We used this technology to communicate everything from the need for 6 pallets of water to the "thank you" Mr. and Mrs. Grys shared the day after they saw their new home. The more we put out there, the more hits it got. I have to say, I was completely amazed to see that from the day the family was notified (Oct 21) to the day they saw their new home (Oct 28) the site had received over 75,000 hits!
Lesson Implemented: When you are working a project that is moving fast, more communication is better than less. When everyone involved understands the needs and the challenges they can work together to make great things happen. In this case, we were communicating literally 20 hours a day.
Be Ready for The Unexpected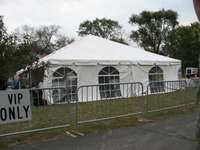 As with any project that is large and moving fast, unexpected things did come up – besides the torrential rain, cold, heat, wind and snow…. Like, the day that the winds were blowing so hard that all of the stakes on our 30 x 40 VIP tent came up! The Fire Department came over and ordered all of our VIPs out of the tent. No problem, we thought. Just call the company that supplied the tent. Except that it was Sunday afternoon and we could not get hold of anyone.
So, for a number of hours we had 2 adults on each bar of that 30 x 40 tent, holding it down while we made calls and tried to figure something out. Fortunately, we were able to get hold of another tent company and they came out to help us!
There are many more stories, but I'll save them for another time.
Lesson Implemented: Unexpected things happen on fast moving large projects. Expect it. A good attitude goes a long way to making the situation resolve as fast as possible.
Through it all we had a lot of fun!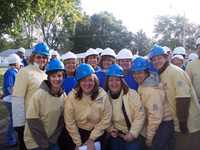 I have to say that major sleep deprivation, sleeping in old motels, crazy weather and so much more leads to some interesting experiences! But, when it was all said and done, the Grys family was able to get an amazing new home that meets their needs and I made some life-long friends.
Maybe in a few days I'll tell you about how I dug out from under the mounds of stuff that was waiting for me when I got home! 4 weeks away can lead to a lot of accumulation!
What Have You Done?
What huge project have you worked on and what did you do to keep on track and not loose your mind? Share your thoughts. I'd love to hear them!
To your success!