Leaving your job can be a scary thing! What can you do to leave your paying job and build a life around your passions? I had a great time talking with Jasper and Meredith about the choices I made leaving my "golden handcuffs," steps to consider as you start your first self-employment adventure, the benefits of systems and getting visible.
Media Type:  Audio podcast
Length: 37 minutes
Listen Now!
Cost:  no cost, just show up!
Go Here:  Paycheck to Passion Podcast
Quick Tips for Getting More Visible
My Interviewers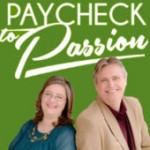 Jasper Blake and Meredith Eisenberg host the Paycheck to Passion podcast. They interview brave people that have made the leap between the world of employment and being self-employed.
Live Fully -- Love Openly -- Laugh Often -- Leverage Your Brilliance -- Connect Authentically -- Get Your Message Out -- Serve with Impact -- Prosper Everyday