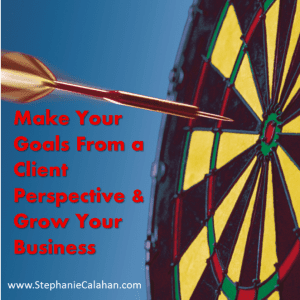 Every year at this time we start to think about how the current year has progressed and what we want to do in the upcoming year. The new year brings new hope for your small business!  Unfortunately, somewhere in the back of your mind you realize that the resolutions you have made in the past were not always realized.  Somehow, they got sucked up by your every day busy life.
I have often said that New Year's Resolutions don't work and that you really need to make solid goals instead.  So let's talk about goals instead of resolutions.  There are a bunch of different ways to create your goals.  A quick and easy way to get solid goals that will make a difference for you is to make them from your customer's perspective!  When you focus on your clients, you will create a whole new perspective for your business vision.  The goals (ok you can call them resolutions if you would like) will have more sticking power too.  So let's look at how you do just that. Know the 3 Ss:  Success, Suck and Stretch.
Goal Creation Step One — Identify What Worked aka the "Successes"
Grab a sheet of paper or your computer and create a list of the top 10 successes of this year.  What were your client successes?  You might have had internal or external success in:
sales of a particular service or product
follow-up processes for customers
PR effort that was especially successful
successful back-room sales when you give presentations
a lead generation process that worked very well
training that led to higher customer satisfaction scores
etc
The successes could be from any aspect of your business.  However, if it is difficult for you to identify the winners, start with the areas of your business that you have received positive comments or where you have received referrals.
Goal Creation Step Two — Pick Three or Four (3 or 4) and ADD Them
Looking at the list you just created, pick no more than three or four of those successes that you want to make sure to do again and expand on for the coming year.  After you pick them, make sure to write out a plan for how and when you are going to make them successes again.
Write it down and post it where you and your team can see it!
Goal Creation Step Three — Identify What Did Not Work aka the "Suckers"
Every business, no matter the size or how long they have been in business has activities that just do not work.  Write down the list of activities that just did not work this year.  They could be either internal or external and are things like:
anything that "sucked" up your time, space, money, or productivity
products or services that lost money
activities that lost time
systems that had hiccups (or things that need systems but don't have them!)
opportunities you lost
products or services that did not sell
follow up systems that did not work
social networking that did not produce desired results
etc
Goal Creation Step Four — DROP THE "Suckers"
Pick the top three or four and drop them!  I know, this step can be hard, but you need to drop the activities that did not work.  "Suckers" drain you and they drain your business.  You might be saying "But I might need it someday!" or "But it worked for so-and-so!"  If it is hard for you to let go of an activity, look at it from your customers point of view.  Why would you want to keep something that is not going to make them happy?  Look at the activities that are causing the most complaints or where they said you could do better.  
We hear a phrase all of the time at this time of year "Out with the old and in with the new!"
If you don't let go of ineffective activities, you will not have room for new and better ones.
Once you have identified the "suckers" that are going to go, create a plan to eradicate (or significantly diminish) them.  Just like the successes, the plan needs to include how and when you are going to take action.  
Write it down and post it where you and your team can see it!
Goal Creation Step Five — Identify New Things You Will Try aka the "Stretch"
"If you always do what you have always done, you will always get what you have always got."  ~unknown
One of the biggest challenges for small businesses is continuing to do the same thing time and again.  Just like you need to stretch yourself physically (you know, the resolution you make about getting to the gym so you can lose weight), you need to stretch your business activity muscles too.  The stretch will allow you to grow and develop.
Pick one area where you will really stretch your business.  Remember to think of your customer.  Maybe you will create a new product or service, or significantly improve on one.  Maybe you will create new or improved processes that make it easier for you to follow up with your clients.  Maybe your stretch will be with your finances or your time.  The trick is to think of what will benefit your customer.
Then create a plan for execution!  What is your stretch?  How will you make it happen and when will it happen?  
Write it down and post it where you and your team can see it!
Final Thought
By making sure your goals are customer-focused, you will begin to see that they are not only a desire for you but a commitment to them.  Try this process and see how well you meet their needs and grow your business.
What Do You Think About This Goal Setting Technique?
I'd love to hear your thoughts.  Please share them in the comments section below.
To your success!