Are you forcing the pain or feeling the stretch?  The difference could grow your business.
How often are you stepping out of your comfort zone?
How often are you stretching yourself — a good healthy stretch?
Or maybe you are stretching too much.  Maybe you are feeling the pain.  Maybe you were taught "no pain, no gain."
Either way, let's discuss that today.  Stretch vs Pain.  Maybe you'll have a new perspective as a result.
The Idea Started In Yoga Class
It was the first day of yoga class.  The first time I had attempted yoga in well over ten years.
I decided to sign up for the accountability.  While I can be quite disciplined in other things, exercise is not one of those things!
As the teacher began talking with us, she reminded us that PAIN was NOT GOOD.  One of the goals of yoga is to stay present in the moment. 
The teacher explained that if you were in pain, you would be focused on the pain and not on anything else and you would not move forward.
Well, that makes sense! 
She goes on to encourage us to really "relax into the stretch."  Um, ok… my body has not moved like this in years (if ever) and you want me to relax?!
During class I ended up tearing up a few times.
The first time was when I realized that I did not have to have the poses/asanas "perfect."  I had not realized how self-conscious I was walking into that class until I let the self-consciousness go.  Everyone there was at a different level.  Some were more flexible than me and others were less flexible than me and it simply didn't matter.
The second time was when I understood what relaxing in a good stretch was.  I could feel my muscles working, but I was not pushing.  It was a good stretch.  I found it when the teacher encouraged me to go just a bit further.  I did it!
That was almost 6 weeks ago.  I've been going twice a week ever since that first day.  (Yes, please a little cheering.  I'm amazed I'm still going.)
The Business and Life Tie
Its so easy to be critical of ourselves when we look at our business or where we are in life.  We see others that have "gone further" or "done more."
At that point, many solopreneurs start pushing.  They work more hours and learn about more tactics.  Maybe they lose sleep or time with people they care about.  They are driven!
As you are looking at the exterior of someone else's business or life, you don't really know the ins and outs of what is really going on.  Maybe you are more flexible than them in some areas and not in others, but as in my yoga class… it doesn't really matter!
Be kind to yourself.  Recognize where you are.  Define where you want to be and then get a plan to get there.
Rather than running on tactics and feeling the pain of constantly being on the go, consider putting a solid strategy in place that strategically stretches you to the business and life you really want.
Maybe even hire a coach or an accountability partner to help you stretch when you don't think you can.
You just don't know what will work.  Get out there and try it!
Today Ask Yourself
Who has supported or challenged me in such a way that it expanded me?
Where have I stretched for new ideas and solid strategy in my business?
Am I putting up with pain that I should let go?
If you are ready to have good stretches in your business and to let go of the pain, apply for a breakthrough session.  I'm opening my calendar to a few people to help them map out what that would look like. 
Until we talk again, may you
Live Fully -- Love Openly -- Laugh Often -- Leverage Your Brilliance -- Connect Authentically -- Get Your Message Out -- Serve with Impact -- Prosper Everyday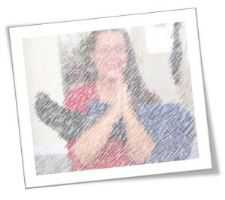 P.S. This is me after about five weeks of class.  I could not do this in the beginning.  It is amazing how allowing yourself a good stretch can get you to a goal faster than forcing the pain. 
 What do you think?