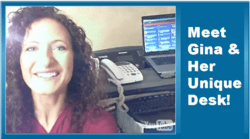 I'm out on Twitter meeting new and interesting people all of the time. A while back @GinaParris and I connected. She is a great business coach and all-around entertaining person. Anyway, I was out on her blog the other day and saw this video showing her very unique desk setup and I wanted to share it with you. Check out the video and tell me what you think.
Your environment and how it is set up will always have a big impact on what you can get done in a day. Different people are successful with different types of setups. Gina has found that WALKING while working not only helps her get her work done, but helps her lose weight too!
If you are reading this post in your email, you can see the video here.
Wow. If I owned a treadmill I would run out and get this setup right away!
Share and Comment!
What have you done with your workspace to make it effective for you? Do you think something like this could work for you? Share your thoughts below by leaving a comment! Like this video? Use the links below to share with your friends.
Live Fully -- Love Openly -- Laugh Often -- Leverage Your Brilliance -- Connect Authentically -- Get Your Message Out -- Serve with Impact -- Prosper Everyday