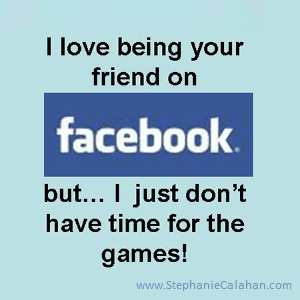 From a Reader: Steph, I love all of the connections that I can make on Facebook, but I am so sick of the goofy games. I don't care about virtual pillow fights or mafia wars or what color underwear you are wearing! Is there a way to cut the clutter and still stay in touch with my friends? Thanks – Tamera
Tamera, I'm with you! I love the ease that I can connect with people from all over the world, but I am not a game player. I use Facebook to build new relationships and reconnect with people. Playing games keeps me from my priorities.
There is good news! If you are among the growing crowd of people that avoid Facebook because you just don't have timeor don't care to scroll through the myriad of games your friends are participating in, today I'll share how to get rid of the clutter. Read on to learn how to clean up your Facebook stream — getting rid of the games, while still seeing the funny/engaging things your friends talk about.
Clearing up your Facebook stream is quite simple. Just follow these three steps.
1. Mouse over your Facebook Friend's post.
2. Click the Hide button that appears on the upper right corner of the post (see it circled in red below for example).
3. Click the "Hide" button that appears for the specific application. Note, the name will vary depending on which game is being played. Be careful to only hide the application, not your friend's updates!
You only need to hid an application once. The hide command will pick up everyone playing that particular game and hid the game activity.
That's all there is to clearing up your news feed!
What do you do to make your Facebook experience focused to your goals? Try this technique and let me know how it goes.
Do you have Facebook friends that would benefit from knowing this info? Share it by clicking on one of the buttons below!
To your success!
Live Fully -- Love Openly -- Laugh Often -- Leverage Your Brilliance -- Connect Authentically -- Get Your Message Out -- Serve with Impact -- Prosper Everyday