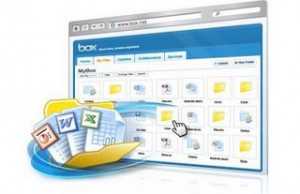 Finally! A low cost way to share big files without locking up your friend's email. It is called Box.net and according to their site it is used by nearly 2 million people worldwide. Keep reading to learn about the testing I did today and what I think of the tool.
The site's marketing info shares a lot of the benefits of the tool, so I thought I would test it out.
Set Up My Account
I set up a free account (they have subscription plans that give you more space, but I don't need that right now.) Unlike many sites like this, the sign-up process was fairly simple and painless. As soon as I hit submit I saw my workspace for uploading files and creating folders. So far so good.
No Software to download
Did I mention that I did not have to download software to make this work? Box is completely web-based, so there is no software to download and install. Thumbs up!
Share large files with anyone & Keep your files safe
I tried sharing by their collaboration feature, email and LinkedIn. All worked very easily. Cool. The makers of the tool made Box easy for remote access. I was able to get to the files from my laptop, desk PC and phone. I mentioned LinkedIn above, but they also have plug-in applications that allow you to connect to Ning, Netvibes, Twitter and Facebook. I bet they add more over time too.
Example!
So, here is the view from my Box.net account. You can see where I told the system to share these files with LinkedIN.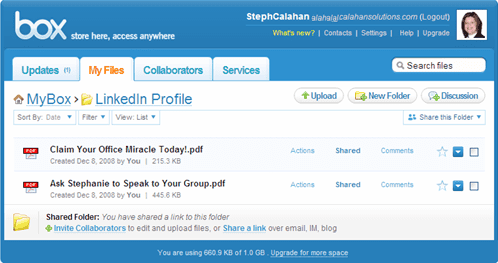 Kudos!
Much thanks to John Vlastelica of recruiting toolbox for this great tool.
What To Do Now:
Get your own Box account if you have a need to share files. Box.net is free for a basic account, which allows you to host 1GB of docs. Details at www.box.net. Then, comment on this posting with your candid feedback about the tool. Did you have the same experience as I did? How did you use this tool? Do you agree it is a great productivity tool? Let me know!
Plus, send me an @ message on Twitter too & I'll do my best to reply to you so you get extra visibility with my twitter followers. 😉 http://twitter.com/stephcalahan
I look forward to hearing from you.
To your success!
PS — I do not get any special perks or commissions from box.net or any vendors. This post does not include affiliate/commission links.