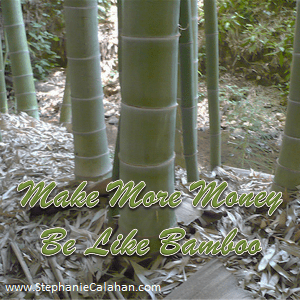 How often do you wake up in the morning and say "ugh, I don't really want to go in today"?  It happens to the best of us, however; some people have it happen less often.  Why is that?  I venture to say it is because they are like BAMBOO. 
Bamboo?  Yes.  While it is really from the grass family, bamboo has some amazing strategic growth processes–heck some can even grow up to 100 feet tall!  So today, let's look at the 5 areas of your business life that you must have to have flow and make more money and be more like bamboo.
Systems that Support Growth
You see, while bamboo is known for its speedy growth (once it starts growing up) there is something below the surface that many do not know.
Running bamboos spread by underground stems called rhizomes.  The rhizomes are the organism's growth system.  The plant grows underground, sometimes for up to 4 years, before it shoots out to the sky. 
The intricate system of roots and growth make the plant amazingly strong.  (If you have ever tried to get rid of bamboo in your yard like we have, you know what I mean!)  When one section is destroyed the rest of the plant continues to live and thrive. 
Your business needs systems too.  The more you can put systems and processes to the work you do, the stronger you become and the more you can grow and even survive harsh conditions.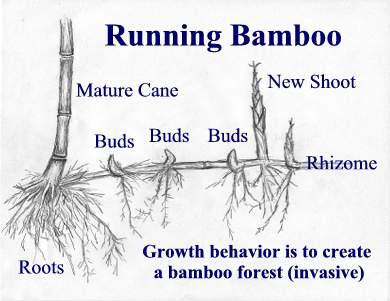 1. Your Time / Schedule
Think about working in time blocks.  We all process better and faster when we are not jumping from one type of task to another.  For example, I have days in my week that are dedicated to client work and days that are dedicated to marketing, writing, etc.  Every work situation is different, so pick the blocks that work best for your situation.
When in doubt, schedule it out!  Rather than having sticky notes all over your desk for things you want to get done, put the tasks on your calendar.  Make sure that as you schedule the activity (appointment on the phone, outside of the office or task you want to get done, etc) with enough time to come to a stopping point.  For example, when I am doing strategy sessions with people, I have time before the call scheduled so that I can make sure to be up to speed on the person I will be speaking with as well as time after the call to make any important notes.
Develop a process and strategy for how you will schedule your week, day, hour and you will have less stress worrying about getting things done.  Try it and let me know how it goes!
2. Your Sales and Followup Process
If you are in business, you need to make sales.  Unfortunately, many companies, both large and small, lack a good system for following up with their prospects.  Entrepreneur magazine's "Become a Follow-Up Fanatic" shared the following:
"Findings from a recent study by lead-generation firm Resource Nation support his contention. The study finds a direct correlation between the speed at which a company's sales force follows up with leads and the company's lead-conversation rate; yet, it also reveals that many companies are surprisingly weak in their follow-up with prospects."
Don't let this be you!  Get a good process in place to respond when the need hits.
3. Your Office Space
The physical setup of your office is important to the process flow of your day.  Think of your space in varying forms of valuable real-estate.  Everything within your arms reach is your most valuable real-estate.  Do you keep paperwork or reference material that you use on a regular basis far from your workspace?  Does it get put away?  The most frequently accessed items need to be the easiest to reach and work out from that.  Be intentional with how you set up your space. 
4. Your Physical Information (Paper, books, binders, etc.)
Paper overwhelm is the #1 reason people call us.  It can be overwhelming and seems to grow really fast!  Take time to figure out a system that allows you to FIND what you are looking for.  Any system that is difficult to manage or that you have to work hard to remember is not going to work in the long term.  FINDING what you are looking for is the most important aspect of a good physical information system.  For some people that is a traditional filing cabinet system, but others might find more success with cubbies in their office. 
The average person wastes 150 hours a year looking for lost information.  Add to that 25% of enterprise documents are misplaced and will never be located.  Imagine the wasted time recreating those lost documents. Imagine what you could do if you put a system in place and reclaimed that time!
5. Your Electronic Information (Email, documents, social networking, etc.)
This is the #2 reason that people contact us.  Email has inundated us with extra information.  It does not matter if you are in the office or not.  The email and tweets and Facebook updates will keep coming.  Evaluate your electronic information and set a realistic amount of time each day to deal with what is coming in.  Where possible, use rules in your programs to auto process for you.  Are there emails or social networking activities that you can delegate?  Evaluate all of the information that is coming in and make rules for how you will handle it.
6.  Your Information Management Retention and Purging System
Decide to decide!  Many people keep things — papers, reports, emails, books — because they don't have set guidelines around how long something should stick around.  If you don't have a process or guidelines around when to get rid of information you run the risk of old outdated information overshadowing more current information.  Document mismanagement is estimated to cost business 12% to 15% of corporate revenue.
Grow those horizontal shoots, like bamboo, and build systems into your work-flow and you will see the stress diminish and the income flow.
Not sure how to develop a strategy that will work for your situation?  Let me know.  I'd be happy to schedule a f'ree strategy session with you to help you figure out next steps.
Comment and Share
What do you think?  Do you agree or disagree?  How has this post impacted you?  What are you doing to manage the things you need to get done?  Are you going to be more like bamboo?  Comment with abandon! Let's have a discussion.  Just comment in the comment section below. 
Live Fully -- Love Openly -- Laugh Often -- Leverage Your Brilliance -- Connect Authentically -- Get Your Message Out -- Serve with Impact -- Prosper Everyday