The key is not to prioritize what's on your schedule, but to schedule your priorities. ~ Stephen Covey
I hear it all of the time from my business colleagues and clients.  "I don't have time!"  It is true that we are busier than ever.  It seems that the more tools and tricks we get, the more we have to do and the less time we have to do it.  I read somewhere recently that we get done in 14-15 hours what 30 years ago would have taken 40+ hours to do.  Yet, it still does not all get done… Why is that?  Maybe it is because we are not focusing on the right things.
Take today's quiz and then tell me how you did.  It can be really eye opening!
Start by Listing at Least 10 Things You Did At Work Yesterday
Really!  Take out a piece of paper and number it 1 – 10 and list out what you did.
1.
2.
3.
4.
5.
6.
7.
8.
9.
10.
OK.  Is your list done?  Great!
Decide Where Each Item Needs To Be Placed on the Covey Priority Quadrant Below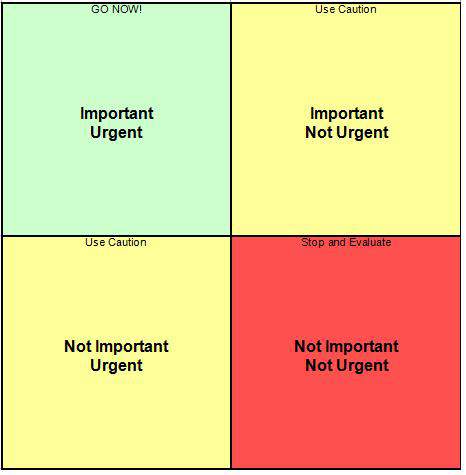 Evaluate Your Results – Was Your Time Managed Well?
How many of the activities fell into the Green box?  How many fell into the Yellow box?  How many fell into the RED box? 
The goal would be to have the majority of your activities in that upper left, green box.  If not, adjust today and re-evaluate tomorrow. 
By doing this simple exercise you begin to understand where your time goes.  Understanding then can lead to a positive change in actions!
What About You?
What did you learn by doing this short quiz?  How did you do?  This activity has helped me increase my personal productivity, but everyone is different.  Do you have tips or tricks that help you?
To your success!
Live Fully -- Love Openly -- Laugh Often -- Leverage Your Brilliance -- Connect Authentically -- Get Your Message Out -- Serve with Impact -- Prosper Everyday