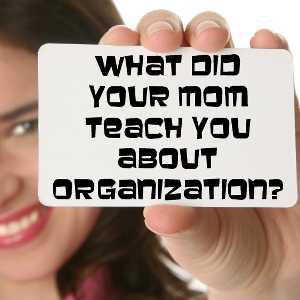 My mom is amazing. I'm so lucky that I can say that. Not only did she raise 3 rowdy kids, but the home we lived in was always clean, organized and comfortable. We did not have much, Dad was a teacher and you know they don't make much, but we were really happy and always seemed to have what we needed.
Mom was and still is, amazing at fitting things into small spaces too! She has a great eye for what can fit in a closet or a shelf or anywhere else. She is so good that she has fooled most of the movers they have ever had. They totally underestimate how much she has in her home. She makes a lot more fit into one cabinet than what most would.
So, on with my list! Some of the things I have learned from my mom about organization:
Use the right tools and containers
Now, this does not necessarily mean that you need to go to the store and purchase expensive products. This means that you need to assess your space and what you need to store and use containers that fit both concerns. Mom has a bunch of shoe box sized containers that she uses in her closets to hold items that she uses occasionally, but does not need all of the time. They are labeled in her fantastic half calligraphy handwriting to let you know what each one contains. Any fast glance in her closet and you would know exactly what you have. She only uses containers that hold the size of the item she wants to store. It is not too big or too small.
Reuse When It Makes Sense
Mom is not wasteful either. In looking in the drawer of her desk you will find a number of neatly lined up boxes all of the same size with labels — rubber-bands, paper clips, and so on. The boxes that she has used?? The boxes that her checks came in! They are the perfect size for the depth of her drawer when standing on end. By using this technique, she is able to fit almost 50% more things in the drawer! How can this be? Well, it is because she is using every available inch in the drawer both vertically and horizontally.
Know what your family is up to and communicate!
For as long as I can remember, Mom has had a family calendar. Before we could commit to anything, we had to check the calendar that was right by the kitchen phone (and is today too.) Some things were written in pen (birthdays, school events, etc.) while other things were in pencil (appointments, etc.) When I got old enough to work, my work schedule went on this master schedule too. Because of this scheduling strategy, we were always where we needed to be at any time of the year.
There is more than one way to use a tool
When I was in junior high my aunt bought all of the nieces acrylic bathroom containers. Some for cotton balls, some for cotton swabs, and some for miscellaneous makeup storage. At the time, I did not really care for any of it because I thought it was not very attractive. I did not like my bathroom containers to be out where everyone can see. Today, my mom uses these exact containers still! Instead of having each item out on the counter, she has positioned them inside drawers and cabinets. The containers help to keep dust and other non-desired items off of the items stored. They are also fabulous for making a very quick selection for exactly what you want. Now why didn't I think of that?
Know what you are going for, before you go
Mom had to be frugal when we were growing up. A dollar really had to stretch (so evidently nothing is new today huh? I need mine to stretch too!) One of the things she practiced back then and still does today is making shopping lists. She had her list magnetized to the fridge. The entire family was taught to add to the list when something ran out. That way, when she went shopping, she knew that she was getting everything that was needed in one trip.
Store things by how you use them
To this day if we have a gift to wrap, we know we can go to the basement and Mom is going to have everything we need to make gift wrapping quick and painless. Everything is in one location and labeled so that we have what we need without searching.
Use Your VERTICAL Space!
Mom is fabulous at this organizing trick. She uses every available inch in every cabinet she has. Where her cabinet shelves were not configured to her needs (too far apart) she has inserted self-standing wire shelving to hold dishes and other items. The next time I go over there, I'll try to remember to take a picture. It is amazing to me what all she can fit into a space and still have it be usable space!
Your Turn!
What did you learn from your mom? Do you think that your mom is to blame for your ability to organize? Sound off by commenting at the bottom of this posting.