Stephanie changed my life in one day. I am a better person, both personally and professionally, because of Stephanie. For that I will ever be thankful.
I remember well the day Stephanie visited my office. I had stacks of books and papers on every horizontal surface, including some of the floor. Oblivious to the disorganization of my office, I felt that I was functioning at a high level, but was frustrated that I was always preparing for everything at the last minute. I justified my procrastination by telling myself that I "function better under pressure." I didn't really believe that I needed much help, but Stephanie came highly recommended by a friend, and I felt she was worth a try. I was confident that the professional angst and anxiety I felt was just part of my job and that there was nothing she could do to relieve the pressures I felt.
I was wrong. Stephanie changed my life in one day. She started our visit with a series of questions that made me reflect upon my modus operandi. Through gentle, but firm inquiry she helped me realize how the cluttered look of my office mirrored the near-chaotic process with which I tackled every day activities. She listened, provided encouragement, prodded for understanding, and provided helpful and pertinent strategies that are still working today. One of the most important things she did was invite my administrative assistant to be a part of the improvement process and helped us realize how much more effective we could be if we worked as a team.
Stephanie continued working with us through the day and beyond business hours, consistently showing patience and support. When she left my office the stacks were gone, operational processes were outlined, and a spirit of productivity was in place.
Stephanie's visit occurred five years ago. I am proud to say that my office remains stack free, my assistant and I now work together in a very effective manner, and I plan for most activities at least a week in advance. I still stumble every once in a while, but it is during these times that I remember her gentle, but firm question, "Do you really need to do it this way?" My assistant now quotes Stephanie's wisdom when she sees me allowing myself to return to "old" ways.
I have called upon Stephanie on other occasions since her original visit.
Most recently I asked her to facilitate a difficult situation that needed someone with an understanding of group dynamics and a familiarity with web-based design.
I was involved with a statewide group who was desiring a new website. A very knowledgeable and enthusiastic individual from the group had assured everyone that he would create an RFP and facilitate the awarding of a contract for the development of the website. Unfortunately, time constraints did not allow him to give the project due diligence, a fact that everyone but him realized.
I asked Stephanie to consider taking on the challenge of creating the RFP, a task which now involved potential hurt feelings in addition to the technical and distance challenges that already existed (group members were spread across the state).  To my relief, she agreed to take on the endeavor.
In typical Stephanie fashion, she drew the group together, in this case using virtual meeting software, and queried the participants about the qualities and capabilities they desired in a website.  Consistently and patiently directing the participants' attention to the "what" rather than the "how" of website design, Stephanie was able to describe the desired product and develop a list of required components. Having deciphered the information she needed, Stephanie then developed an RFP that was distributed across Illinois. The application process went very smoothly and the organization's website will go "live" before the end of this year.
As is very evident in the text above, I hold Stephanie in very high regard. I respect her strong sense of pro-activity and purpose. I admire her ability to understand and work with people. I am amazed by the professional network she has built.  And I appreciate her direct and forthright approach. I am a better person, both personally and professionally, because of Stephanie. For that, I will ever be thankful.
Kevin Seymour
ROE SchoolWorks
Stephanie Speaking at Connecting Conference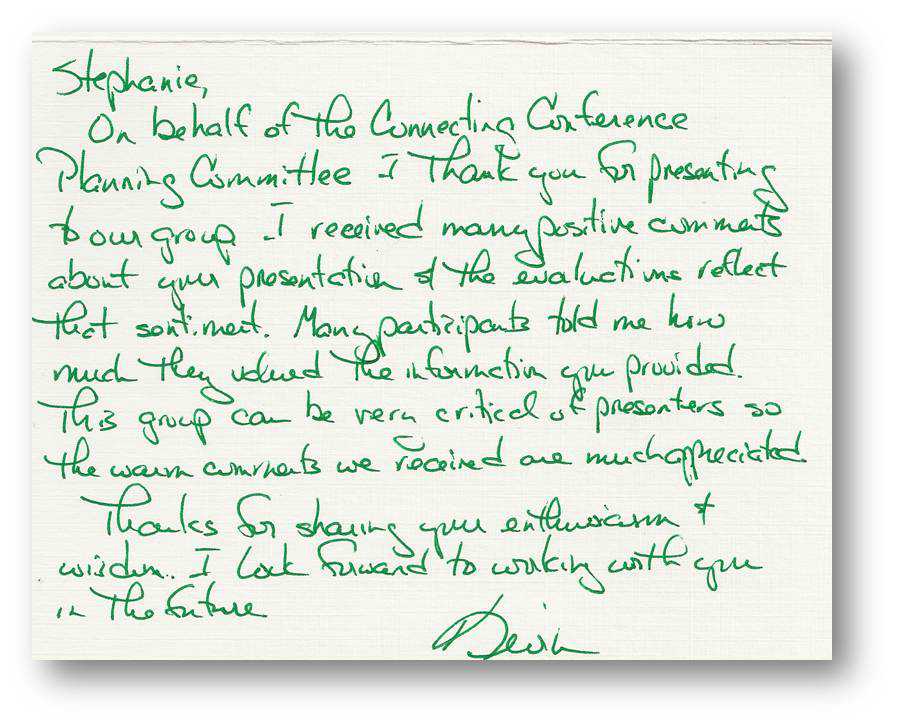 You Can Have a High-Performance Business with More Clarity, More Profit, More Freedom, and More Peace of Mind.
Sound interesting? Fantastic! I'd love for you to have that too, and it might not be as far off as you think—no matter where you are in your business journey. Schedule a call with me to see how we might be able to blast through your blocks and create a business built to work with who you are. We can quickly "de-stress" your business and identify the fastest and easiest ways for you to make money and make a difference so that you can work less, impact more people and enjoy life freedom the way YOU define it in business and life.
FTC compliance statement: Individual results may vary. None of the people providing testimonials have been given compensation for their testimonials.  Comments shared were provided to Calahan Solutions, Inc. via US mail, e-mail, voicemail, social media, and hand-written. WE CAN NOT AND DO NOT MAKE ANY GUARANTEES ABOUT YOUR ABILITY TO GET RESULTS OR EARN MONEY WITH OUR IDEAS, INFORMATION, TOOLS, OR STRATEGIES.  NOTHING ON THIS PAGE OR OUR WEBSITES IS A PROMISE OR GUARANTEE OF RESULTS OR FUTURE EARNINGS, AND WE DO NOT OFFER ANY LEGAL, MEDICAL, TAX, OR OTHER PROFESSIONAL ADVICE.  ALL NUMBERS ILLUSTRATED ON THIS SITE OR OUR OTHER WEBSITES ARE FOR ILLUSTRATION ONLY. YOUR LEVEL OF SUCCESS IN ATTAINING THE RESULTS CLAIMED IN OUR MATERIALS DEPENDS ON THE TIME YOU DEVOTE TO THE KNOWLEDGE AND YOUR VARIOUS SKILLS. SINCE THESE FACTORS DIFFER ACCORDING TO THE INDIVIDUAL, WE CANNOT GUARANTEE YOUR SUCCESS OR INCOME LEVEL. NOR ARE WE RESPONSIBLE FOR ANY OF YOUR ACTIONS.  IN SHORT, WE DON'T KNOW YOU OR YOUR ABILITY TO FOLLOW THROUGH ON WHAT YOU HAVE LEARNED AND CANNOT PREDICT YOUR FUTURE.  BESIDES, YOUR RESULTS IN LIFE ARE UP TO YOU, RIGHT?  HERE IS THE REALITY:  MOST PEOPLE DON'T USE THE COLLEGE DEGREES THEY EARNED AND MOST DON'T READ THE BOOKS THEY BUY.  MOST PEOPLE DON'T GET RESULTS BECAUSE THEY SIMPLY DON'T TAKE ACTION.  THE AVERAGE PERSON PURCHASES A PROGRAM AND NEVER DOES ANYTHING WITH IT.  IN FACT, MOST STRUGGLE RATHER THAN GET MENTORS.  WE HOPE THAT IS NOT YOU AND WE HELP BY GIVING GREAT INFORMATION, DIRECTION, AND STRATEGIES TO HELP MOVE YOU FORWARD. IF YOU ARE INTERESTED, YOU CAN READ ALL OF OUR TERMS, PRIVACY POLICIES, ANTI-SPAM POLICIES, DISCLAIMERS, ETC. IN THE LINKS IN THE FOOTERS OF THIS SITE.  THANK YOU FOR STOPPING BY AND THANK YOU FOR BEING A DIFFERENCE-MAKER.