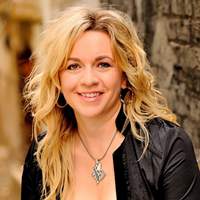 Stephanie has the power to pull out greatness in people. And I am so thankful for it!
My initial conversation with Steph started out as a casual conversation. Through her own brilliance and intuition, she knew I was hiding something. My business was on the brink of failure. While at one time I could sell, I had not generated a new sale in many months and was spiraling. Money and flow did not exist. I had no idea where the next dollar would come from and couldn't afford more coaching. But I also couldn't afford not to get help. I was working so hard and pushing, pushing, pushing. It had gotten to the point that I didn't believe I knew what to do.
I'm so thankful that Steph offered to help. She helped me find the tools I had within myself to pull out my own brilliance. The idea that doing some inner work to have more money was a completely new concept to me. But Stephanie has all these different ways of getting you to tap into abundance and yourself. And it works! I can't tell you how many times she got me to stop pushing so hard and have great things happen. Through our work together, the number of sales conversations I have had has exploded! My sales are already surpassing any of my past records. And I am at peace with the flow of possibility. There really is abundance everywhere and every time I use the tools Steph has guided me to use, new doors open like magic.
One of my favorite benefits of working with Steph has been that it has helped me grow in my own coaching ability. We serve completely different markets, in completely different ways. I work with leaders who have teams and usually in a brick and mortar setting. We never talk about how to coach my clients, but in Steph teaching me how to always tap into myself for the answer, I unleash leadership and business coaching my clients need. It's amazing. I'm able to serve my clients at such a greater level than I even thought possible. And it is so fulfilling to pour into others and watch them have real transformations in their businesses and personal lives.
Doing business your way is why most of us start out. Coming from corporate, I found that I was trying to fit everyone else's mode of work and that physically was exhausting and was emotionally draining. It wasn't good business. Giving myself permission to truly do business my way, has had phenomenal results for my clients. Who knew? Now, I feel like I'm running my business, Steph has ways of helping me see things bigger, and I look forward to our calls from a "help keep my head and heart in the right direction" and I really see that I have the answers inside me.  Now, mind you, her short cuts are appreciated!
And my family is so thankful for it. I can truly be an engaged wife and mom again. No more blurred boundaries and guilt over "Should I be working more? Should I be working harder?" My husband raves about my transformation from working with Steph. He's so happy to have his kick-ass wife back. And money was always such a tough conversation for us and now it makes for great date night conversation. I never thought that would happen unless I went back to having a job.
I have never felt more powerful! Now I know I have the tools to overcome any new obstacle that comes my way in my business and my personal life.
Emilie Shoop – The Full Throttle Leadership Coach and Team Culture Creator
http://www.shooptc.com/
Note from Stephanie: I love it when I get the opportunity to celebrate with my clients! This is a picture of Emilie and me the day she was awarded the WEEK 25 Women in Leadership Award.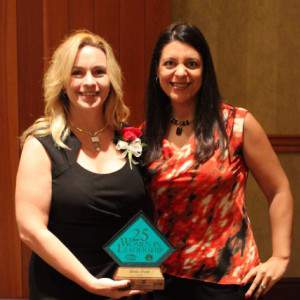 Want More 5-Star Clients, More Profit and More Freedom?
Fantastic! I'd love for you to have that too and it might not be as far off as you think.Connect with me to see how we might be able to blast your blocks and create a business built around you. We can quickly "de-stress" your business, leverage every ounce of your brilliance and systematize your success, so that you can work less, impact more people and enjoy freedom the way you define it in business and life.
Book your Profitable Freedom Breakthrough Strategy Session with me.  We'll chat about what you are doing now, some tweaks to make it better and how I might be able to support your business.
FTC compliance statement: Individual results may vary. None of the people providing testimonials have been given compensation for their testimonials.  Comments shared were provided to Calahan Solutions, Inc. via US mail, e-mail, voicemail, social media and hand-written.
WE CAN NOT AND DO NOT MAKE ANY GUARANTEES ABOUT YOUR ABILITY TO GET RESULTS OR EARN MONEY WITH OUR IDEAS, INFORMATION, TOOLS OR STRATEGIES.  NOTHING ON THIS PAGE OR OUR WEBSITES IS A PROMISE OR GUARANTEE OF RESULTS OR FUTURE EARNINGS, AND WE DO NOT OFFER ANY LEGAL, MEDICAL, TAX OR OTHER PROFESSIONAL ADVICE.  ALL NUMBERS ILLUSTRATED ON THIS SITE OR OUR OTHER WEBSITES ARE FOR ILLUSTRATION ONLY.
YOUR LEVEL OF SUCCESS IN ATTAINING THE RESULTS CLAIMED IN OUR MATERIALS DEPENDS ON THE TIME YOU DEVOTE TO THE KNOWLEDGE AND YOUR VARIOUS SKILLS. SINCE THESE FACTORS DIFFER ACCORDING TO THE INDIVIDUAL, WE CANNOT GUARANTEE YOUR SUCCESS OR INCOME LEVEL. NOR ARE WE RESPONSIBLE FOR ANY OF YOUR ACTIONS.  IN SHORT, WE DON'T KNOW YOU OR YOUR ABILITY TO FOLLOW THROUGH ON WHAT YOU HAVE LEARNED AND CANNOT PREDICT YOUR FUTURE.  BESIDES, YOUR RESULTS IN LIFE ARE UP TO YOU, RIGHT? 
HERE IS REALITY:  MOST PEOPLE DON'T USE THE COLLEGE DEGREES THEY EARNED AND MOST DON'T READ THE BOOKS THEY BUY.  MOST PEOPLE DON'T GET RESULTS BECAUSE THEY SIMPLY DON'T TAKE ACTION.  THE AVERAGE PERSON PURCHASES A PROGRAM AND NEVER DOES ANYTHING WITH.  IN FACT, MOST STRUGGLE RATHER THAN GET MENTORS.  WE HOPE THAT IS NOT YOU AND WE HELP BY GIVING GREAT INFORMATION, DIRECTION AND STRATEGIES TO HELP MOVE YOU FORWARD.
IF YOU ARE INTERESTED, YOU CAN READ ALL OF OUR TERMS, PRIVACY POLICIES, ANTI-SPAM POLICIES, DISCLAIMERS, ETC. IN THE LINKS IN THE FOOTERS OF THIS SITE.  THANK YOU FOR STOPPING BY AND THANK YOU FOR BEING A DIFFERENCE MAKER.