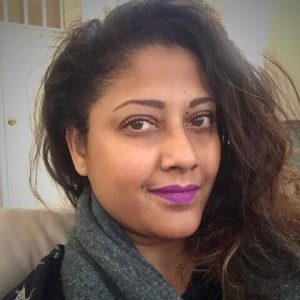 She got me very clear and specific when I was filled with confusion and not sure what direction to go.
"I'm Sonali Fiske. I'm a leadership mentor to Women of Color, leaders, activists, healers, coaches and I wanted to take this moment to give deep gratitude for Stephanie Calahan. She entered my life at a very pivotal and difficult time in my business. It's when I was so exhausted and fed up not getting the kind of results I wanted or not making the kind of impact I wanted to make and serve the kind of people that I wanted to serve. I worked with Stephanie. She got me very clear and specific when I was filled with confusion and not sure what direction to go.
She put this vision in front of me to help me see that I could achieve what I really had an intention around. It had always felt like a pipe dream or a far out dream that I could possibly maybe achieve at some point in my life, but she actually got very concrete. She got very intentional. She got very clear about how it is that I could start envisioning this dream, achieving this specific outcome that I wanted to achieve and make the exact amount of money that I wanted to achieve. She made me write it down. She made me see it in front of me, but what's blowing my mind is this was five months ago and I am close to achieving it!
I am seeing a number in my bank account that I have never seen before.
I am serving four times as many clients as I was when I had started working with her which was just five months ago.
I'm well on my way to achieving the financial freedom that I set out to achieve or that I wanted when I was in that space of confusion and frustration.
I still don't quite know how she did it. I think she's kind of a magician, I don't know. But I wanted to make this video to really illustrate and really share with how much she means to me, how much Stephanie means to me. Her approach, her compassion and there was a lot of stuff that came up to the surface and there were a lot of fear surrounding it. A lot of old mindsets. A lot of old ways of thinking that I had to confront.
Working with Stephanie is not for the faint of heart, because she will make you look at these things or these places that have lied dormant in yourself or that you haven't looked at in a while, but it is the true way to breaking through to the other side. I've had so many breakthroughs since I started working with her in March that I can't even comprehend it. I'm still trying to formulate my words around it, but I wanted to make this video to just share with you what a joy and what a miracle truly Stephanie has been in my life. So, I hope this serves you well and much love and blessings for your own journey."
Sonali Fiske – Leadership for Women of Color leaders, activists & speakers 
www.sonalifiske.com
Want More 5-Star Clients, More Profit and More Freedom?
Fantastic! I'd love for you to have that too and it might not be as far off as you think.Connect with me to see how we might be able to blast your blocks and create a business built around you. We can quickly "de-stress" your business, leverage every ounce of your brilliance and systematize your success, so that you can work less, impact more people and enjoy freedom the way you define it in business and life.
Book your Profitable Freedom Breakthrough Strategy Session with me.  We'll chat about what you are doing now, some tweaks to make it better and how I might be able to support your business.
FTC compliance statement: Individual results may vary. None of the people providing testimonials have been given compensation for their testimonials.  Comments shared were provided to Calahan Solutions, Inc. via US mail, e-mail, voicemail, social media and hand-written.
WE CAN NOT AND DO NOT MAKE ANY GUARANTEES ABOUT YOUR ABILITY TO GET RESULTS OR EARN MONEY WITH OUR IDEAS, INFORMATION, TOOLS OR STRATEGIES.  NOTHING ON THIS PAGE OR OUR WEBSITES IS A PROMISE OR GUARANTEE OF RESULTS OR FUTURE EARNINGS, AND WE DO NOT OFFER ANY LEGAL, MEDICAL, TAX OR OTHER PROFESSIONAL ADVICE.  ALL NUMBERS ILLUSTRATED ON THIS SITE OR OUR OTHER WEBSITES ARE FOR ILLUSTRATION ONLY.
YOUR LEVEL OF SUCCESS IN ATTAINING THE RESULTS CLAIMED IN OUR MATERIALS DEPENDS ON THE TIME YOU DEVOTE TO THE KNOWLEDGE AND YOUR VARIOUS SKILLS. SINCE THESE FACTORS DIFFER ACCORDING TO THE INDIVIDUAL, WE CANNOT GUARANTEE YOUR SUCCESS OR INCOME LEVEL. NOR ARE WE RESPONSIBLE FOR ANY OF YOUR ACTIONS.  IN SHORT, WE DON'T KNOW YOU OR YOUR ABILITY TO FOLLOW THROUGH ON WHAT YOU HAVE LEARNED AND CANNOT PREDICT YOUR FUTURE.  BESIDES, YOUR RESULTS IN LIFE ARE UP TO YOU, RIGHT? 
HERE IS REALITY:  MOST PEOPLE DON'T USE THE COLLEGE DEGREES THEY EARNED AND MOST DON'T READ THE BOOKS THEY BUY.  MOST PEOPLE DON'T GET RESULTS BECAUSE THEY SIMPLY DON'T TAKE ACTION.  THE AVERAGE PERSON PURCHASES A PROGRAM AND NEVER DOES ANYTHING WITH.  IN FACT, MOST STRUGGLE RATHER THAN GET MENTORS.  WE HOPE THAT IS NOT YOU AND WE HELP BY GIVING GREAT INFORMATION, DIRECTION AND STRATEGIES TO HELP MOVE YOU FORWARD.
IF YOU ARE INTERESTED, YOU CAN READ ALL OF OUR TERMS, PRIVACY POLICIES, ANTI-SPAM POLICIES, DISCLAIMERS, ETC. IN THE LINKS IN THE FOOTERS OF THIS SITE.  THANK YOU FOR STOPPING BY AND THANK YOU FOR BEING A DIFFERENCE MAKER.