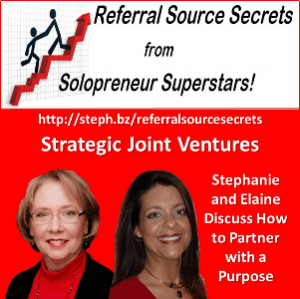 Recently, I have been talking to a number of people that are looking for more ways to generate leads for their business.  Are you?  One thing I always recommend is that they become a partnering superstar.
I don't know of any successful business owners that have gone it alone.  There is just too much to know when running your business!
When you partner strategically, it allows you to
Grow your business exposure.
Fill up your programs fast.
Double or triple your email list.
Get your message out.
Service clients even better than you can do on your own.
When you know how to effectively and strategically partner with others in your business, your business grows, period.  I've been using smart partnering strategies for years.  It has allowed me to grow my list and my ability to impact businesses in a positive way.
If you are not sure where to start with partnering, or you've tried partnering but would like to know about more techniques, then I have an event for you and it starts TODAY!
Referral Source Secrets from Solopreneur Superstars!
Click here to register.  http://steph.bz/referralsourcesecrets
Meet Elaine Quinn, The Solopreneur Specialist. She rescues solopreneurs who become overwhelmed by their own success!
Elaine is hosting the Referral Source Secrets from Solopreneur Superstars telesummit, and you can listen right now! 
Her telesummit will cover 7 partnering and collaboration topics that will help you kick your partnering into overdrive.  Here are the speakers and their topics:
Dawn Mentzer, The Insatiable Solopreneur — How to Move Your Business Forward While Giving Back with Strategic Volunteerism
Viveka von Rosen, LinkedIn to Business — A Solopreneur's LinkedIn Ninja Tricks
Sue Kramer Harrawood, Peace of Mind Virtual Assistance — Are You a Trusted Resource?
Felicia Shaw, Simply in Your Purpose — Putting a Book Together — Collaborative Books to Grow Your Business
Barbara Saunders, Solo Pro Success/Solo Pro Radio — Showcase Your Brilliance, Build a Prosperous Business: Turbo Charge Your Content Marketing
Denise O'Berry, The Small Business Edge — Integrate Passive Income Strategies Into Your Business
Elaine Quinn will share her tips for smart partnering
and me! Stephanie Calahan, Calahan solutions – Boost Your Business and Your Visibility with Strategic Joint Ventures
Click here to register.  http://steph.bz/referralsourcesecrets
I look forward to seeing you there.
To your joy and success!