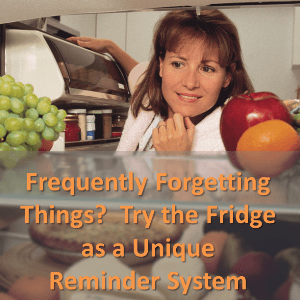 The other night I was staying at a hotel because I was delivering a workshop this morning. As we always do when I'm traveling, as I get ready to go to sleep my husband and I talk on the phone.
He opens the conversation with this: "My keys are in the refrigerator."
Of course, that caught my attention and I was curious, so I asked him why he might have chosen that particular location. . .
He goes on to explain that he put the keys in the fridge right on top of our son David's lunch bag. You see, David normally eats a school lunch, but today they were going on a field trip, so they needed a packed lunch. "I didn't want to forget it," my husband said. . . and he didn't!
Sort by how you use an item
This is a great example of an organizing technique that saves you time, energy and stress! When there is something that you need to remember in the morning, put it with something you cannot forget! My husband had to have car keys to leave, so he put the items together.
He knows that he has a pretty standard pattern in the morning and goes on auto pilot. Because of that auto pilot, he was concerned that he would forget the lunch and ruin our son's trip. Rather than letting that keep him up all night (reminding himself not to forget) he put items together that would help him remember.
Your Turn
What do you do to remember important things in your life? I'd love to hear about it. Share your thoughts right here in the comments.