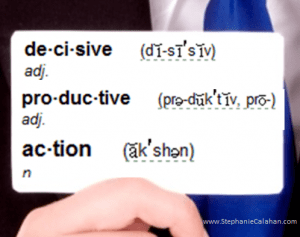 Do you have a theme for 2011?
At the beginning of the year, I read a number of blog posts and articles from people that said they would pick anywhere from 1 to 5 words to focus their year. I have been doing this for the past few years and have found that it works really well.
2011 = DECISIVE PRODUCTIVE ACTION
Your Thoughts Are The Catalyst
"Watch your thoughts, for they become words.
Watch your words, for they become actions.
Watch your actions, for they become habits.
Watch your habits, for they become character.
Watch your character, for it becomes your destiny."
~ Patrick Overton ~
The things that you spend time thinking about the most will be the things you experience in life.  Make sure what you are thinking about takes you to the outcome you really desire.
My Past Themes Lead Into Current Theme
I know that many of you have followed along as I have shared my transformation journey in the past few years, but I've never shared how my themes have helped me make decisions.
In 2009 I was very ill and even told I might not see 2010!  I'm a recovering work-a-holic and it had taken its toll on me.  So 2009 my focus was FOCUSED DISCOVERY.  I'm sure that sounds odd — maybe you were thinking the focus would be health; but I wanted to focus on figuring out the true cause of my illness rather than having doctors pump me up with medication.  My major decisions for the year revolved around finding health professionals that were willing for me to be a part of the process. Good news is we found the multiple causes for my health decline and began the healing. 
2010 my theme focus was CONSCIOUS HEALTH.  I did not as work much with clients this past year and really concentrated on putting learning and habits into place that would support me being in a position to be at my best.  In essence, I practiced what I preach.  Habits take time to form and I had to put some very diligent conscious effort into fixing my health situation.  As different opportunities came up during the year for my business, I would measure against CONSCIOUS HEALTH and then turn down the opportunities if they were not going to support my vision.  Turning down those opportunities were some of the toughest decisions I have made.  Passing up opportunities is never easy.  But I reminded myself that I had made a theme for a reason. I will not be deterred by  "Bright shiny objects" (BSO).
I have gone through some amazing transformations in the past two years and can happily say that I'm rolling into 2011 with excitement for life and raring to go!  It is time for me to put into place all of those things that came up in the past two years. 
2011 Theme is DECISIVE PRODUCTIVE ACTION
"I never worry about action, but only about inaction"  ~ Winston Churchill
I originally thought I would make ACTION my theme for this year, but action alone will not necessarily lead to good things.  I see it all of the time — people busy being busy.  You can take action and do a number of things and still not get anything substantial done.  I want it to be a year of action for myself and my clients, but not just any action.
"Believe and act as if it were impossible to fail." ~ Charles F. Kettering quotes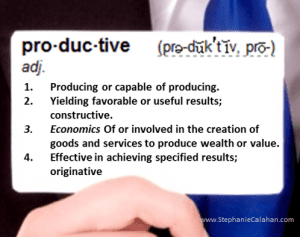 "Productivity is never an accident. It is always the result of a commitment to excellence, intelligent planning, and focused effort." ~ Paul J. Meyer
Adding "productive" to my theme brings more focus on the type of action that I'd like to see manifest in 2011.  I focus on productivity all of the time with what I write about and how I help my clients, but knowing that I would be open to many more exciting ideas this year for my business, my clients and my life, I again wanted the reminder to stay away from BSOs.  When you have moved away from something for a while, it can get tempting to jump in feet first into all kinds of activities and I don't want that to happen.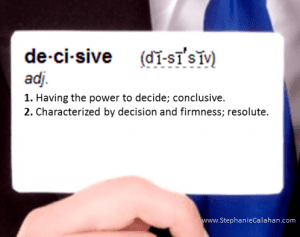 "The hardest thing to learn in life is which bridge to cross and which to burn."    ~David Russell
In my past, I have been known to get caught up in "analysis paralysis" aka perfectionism.  I write about the evils of perfectionism frequently here on my blog.  Being decisive — making a decision — forces me out of that paralysis and into action.  After all, not making a decision really is making a decision to do nothing.
"It's better to be boldly decisive and risk being wrong than to agonize at length and be right too late."   ~ Unknown
Being decisive means making a choice — even if it is the wrong one — and making it fast so that I can learn from it and move forward.
"Good decisions come from experience, and experience comes from bad decisions."   ~ Unknown
Closing Thoughts
I mentioned that I had read a number of different posts and articles on this topic this year.  The best one was by Mari Smith who is focusing on COMMITTMENT – a must read.  In it she shares a quote that is fantabulous:
Until one is committed, there is hesitancy, the chance to draw back. Concerning all acts of initiative (and creation), there is one elementary truth, the ignorance of which kills countless ideas and splendid plans: That the moment one definitely commits oneself, then Providence moves too.

All sorts of things occur to help one that would never otherwise have occurred. A whole stream of events issues from the decision, raising in one's favor all manner of unforeseen incidents and meetings and material assistance, which no man could have dreamed would have come his way. I learned a deep respect for one of Goethe's couplets: 'Whatever you can do, or dream you can, begin it. Boldness has genius, power, and magic in it!'

— William Hutchinson Murray (1913-1996), The Scottish Himalayan Expedition
I could not agree more.  Each year that I have had a theme, I have been able to look back on the year and say that I was able to get to where I wanted to be.  Already, with 2011 only being 10 days into the year, I am seeing the awesomeness of the theme I have chosen as a number of things have been happening for me and my clients.  New clients are stepping up and claiming their transformation and many clients from 3 and 4 years ago are reaching out too.  How exciting!  I can't wait to see the amazing things they are going to do with 2011.
Have You Considered a Theme?
You will continue to read me write and hear me speak about DECISIVE PRODUCTIVE ACTION this year.  What is your theme for this year?  I'd love to hear more.
Live Fully -- Love Openly -- Laugh Often -- Leverage Your Brilliance -- Connect Authentically -- Get Your Message Out -- Serve with Impact -- Prosper Everyday