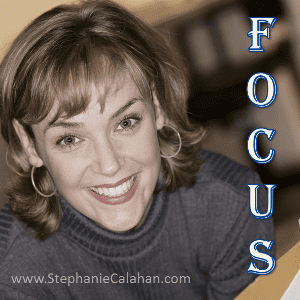 It seems the more people I talk to, the more I hear about stress, frustration and the inability to concentrate due to overwhelm.  I hear it from my networking partners, clients and readers.  You either have too much to do, interruptions plague your day, too much work, other people putting pressure on you and more.
The good news is that there is something we can do about it.
Focus on What You Can Actually Control
This sounds simple, but for many it is not.  So let's dive into what that really means.
Most instances of feeling overwhelmed arise from ignoring the things we can control and instead spending time and focus worrying about the things we cannot control.
Things you cannot control are:
how someone else reacts to you,
if someone appreciates or likes your work,
something that happens in the news (of course that changes if you were involved),
how someone treats you,
if someone else enjoys an activity or situation, and
someone else's mood.
I don't mean to imply that you need to bury your head in the sand and ignore everything that goes on around you. Instead, I suggest that you place your focus on what you can control and not let things outside of your circle of influence cause worry and concern to you. Worrying about things outside of your control is a huge waste of your time and energy. 
Types of Things You Can Control to Decrease Stress and Increase Productivity
Even when you don't think you can, there are a number of things you can control.
Your attitude — Any time something happens in your life, you have a choice about how you will respond.  Make your response a positive one. 
How You Spend Your Time — Even if you have a work schedule that is determined by someone else, you still have control in what you do in the other hours of your day.  Make them count. 
Your Nutritional Consumption — What you eat and drink has a big impact on how productive you are in a day.  Did you know, dehydration can cause "brain fog"?  The next time you go to reach for a soda, grab a glass of water first.  Reaching for that mid-afternoon candy bar?  Get something that will nourish you instead.
Even When it Is Quiet … Listen — Being present and in the moment is a great way to focus.  In our ever multi-tasking world (multitasking is NOT productive) we often lose our focus on the "here and now."
Be Your Best Self to Everyone You Come in Contact –When you consciously offer the best of you to your family, friends, clients and colleagues, you offer them something positive.  It is contagious.  Try it.
Remember, today is the beginning of the best year of your life!  You have a choice.  Make it a good one.  When you focus your positive energy on the things you can control, your overwhelm will start to diminish.  The return on your time investment is huge!  Focus on the things you can control and life will be more enjoyable, relationships will be stronger, you will feel better and you'll be more successful in everything you do.
What Do You Think?
How do you control overwhelm and stress?
Live Fully -- Love Openly -- Laugh Often -- Leverage Your Brilliance -- Connect Authentically -- Get Your Message Out -- Serve with Impact -- Prosper Everyday