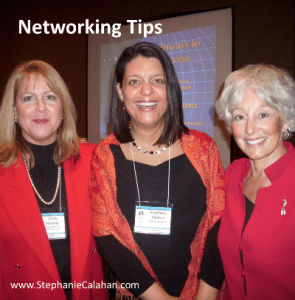 We have all heard the phrase, it is not what you know, but who you know (and in today's social networking environment it is even about who they know!)  On Wednesday I had the pleasure of attending a fantastic business women's conference.  (Look to the right and you'll see the awesome Cindy Fleming on the left, Martha Mayhood Mertz on the right and I'm in the center.)  Connections with the right people put you on the path to success. Being able to leverage your people networks saves you time, energy, and money.
As I walked through the exhibit hall on Wednesday, I did a lot of observing.  I saw a lot of talking and interaction, but I wondered if actual networking was occurring.  Networking is an extremely important component for most businesses, yet there are many people that don't do it right.  They miss the most important step that must be done right — the follow up. 
Let me tell you a short story to illustrate my point:
About a year ago, I was at an event and talked with an exhibitor.  I was very impressed with their product and asked if they could call me later in the week.  The company representative said "That would be great.  We'll be in touch on Thursday."  That Thursday came and went and I did not hear from them.  Two weeks passed and I gave them benefit of the doubt and gave them a call.  They were very apologetic for not getting in touch with me, but they had some unexpected emergencies come up.  Could they give me a call the following week.  "Sure!" I said.  It has now been over a year and I have never heard from them!  I have not invested any money with the company either.
Learning how to network effectively and follow up is a skill that will help anyone in business that wants to maximize their time and money. 
You must have systems in place for follow up!  Stand out from the crowd!  It's so simple yet most people don't do it.  The next time you are scheduled to attend a networking event, make sure to start with these basics:
Make sure to have plenty of business cards with you that are printed with your current contact information.
I hear it at every meeting I go to!  "I'm sorry, I did not even think to bring my cards with me."  Your business card is a very valuable tool for networking.  Don't leave home without it!
Bring a pen and note cards, then use them
Once you have met someone, don't rely on your memory to recall the conversation.  Before you move to the next person, write notes on the contact's business card, or a note card that you can reference later.
Before you go to the event, make sure to block your time in your calendar
Timely follow up is really important.  Give it the attention it deserves and make sure to follow up with everyone you meet or talk with from every event within 24-48 hours.
Have and use your database
Have a database you manage that helps you keep detailed records of all conversations and communications.   Put your networking contact information in the system right away.  
Stay in touch
Once you have met someone, have a way to stay in touch.  Consider, ezines, newsletters, cards, phone calls, etc.
Repeat!
Unless you have loads of time on your hands, or don't need to make any more money, you can't afford to miss these golden opportunities!  The steps that I have outlined are not difficult, yet many people do not do them.  Help you and your organization stand out from the crowd and do that follow up! 
In future posts, I'll share the systems I use to stay in touch.
Comment and Share!
I know you have some great ideas about networking.  What has worked for you?  Please leave your comment below. Like what you've read?  I'd love it if you would click one of the buttons below and share with your network.
To your success!
Live Fully -- Love Openly -- Laugh Often -- Leverage Your Brilliance -- Connect Authentically -- Get Your Message Out -- Serve with Impact -- Prosper Everyday