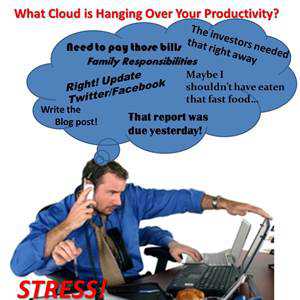 Centers for Disease Control & Prevention state unequivocally that 80% of our medical expenditures are stress related.
Scary huh?!  In fact, my life used to reflect that statistic!  I have spent the last few years learning about stress and finding techniques that help me to live a happy healthy life.  I've learned that there are a number of different types of stress and depending on the type you are struggling with, you may have different ways to alleviate the irritant.
Anyway, the statistic led to other conversation and one of my readers said that she had no idea how to de-stress.  So, I posed the question to my friends and here is what they do.  Don't see yours on the listing?  Scroll to the bottom of the page and add it!  There are a lot of people out there wanting to know!
Let Go!
— "To reduce stress in your life, reduce your attachment to things." — Judith Forsyth
Warm Water
— "Sit in my hot tub with a glass of wine– total de-stressing!" — Tom Larsen
I like this one too!  I had a doctor tell me to to soak my feet in warm water and then give myself a foot rub before bed and I would sleep soundly.  He was right!  Sometimes I enjoy a full jacuzzi bath or I will even go and get a pedicure.  — Steph
 Vision a Beautiful Place
— "Picture being in Martinique and body surfing waves." — @americannanny 
Research shows that if you can create a vision of a place that is clear in your mind, it is almost as good as being there!  Use vision boards to help you with this too.— Steph
Quiet/Reflective Activities
— "I relieve stress with the NY Times crossword puzzle.  Sometimes it takes me all week to finish.  I savor the time working on it." — @blannie1 
— "10 min of mind-numbing Solitaire." — @mdconcierge 
— "CRAFTS! Either crochet or Scrap-booking. Some times just time with friends – we call going out for ice cream "cheese" so the kids won't want to come, too." — Gretchen M. Fatouros 
— "Knit" — Shawna Knapp Collins 
— "Massages!! They are wonderful! Especially if you incorporate aromatherapy into it and do a FULL body massage. I am amazed at the number of women that go for a massage and tell the therapist they don't want their hair and makeup messed up. There is a lot of relaxation to be had by having the face and head massaged!" — Rhonda Shouse
I like massages too.  Get someone that really knows what they are doing and you can relieve physical stress for weeks.  Reflexology is worth a try too. — Steph
I have a client that spends hours in her garden enjoying nature and watching things grow.— Steph
Another quiet activity is writing in a journal.  When you take the time to write your thoughts out, you start to gain a deeper understanding of your own thoughts.  Also, the process of writing is actually healing!— Steph
I read – I have a few different categories for my reading.  One category is "enjoyment" and I do a little reading most nights.— Steph
Audio/Visual
—  "Watching TV is my escape.  The stress relief occurs when everyone goes 2 bed & the only noise is the TV.  I can relax & be calm." —  @rstevenw 
— "A good Turner Classic Movie from the late 30's or 40's." — Cheryl Vargas 
— Music of many kinds can drip the stress away from my mind quickly!  If I'm tense from sitting at my desk all day, I might put on some dance music and dance in my office!  It loosens up the muscles and I always laugh when I dance which is a proven de-stresser.  If I am mentally drained, I have more low-key music that I listen to – Mozart, new age jazz or Jason Groban, etc.
While some people can de-stress by watching T.V., others can really de-stress by eliminating certain shows from their viewing practices.  Evaluate the types of shows you are watching.  How many of them are negative and how many of them are positive?  If you find that your ratio is more negative than positive, change it for 2 weeks and see how you feel.— Steph
 Spiritual
— "I meditate." — Amye Price Gumbinner 
Meditation and prayer are great techniques for getting rid of stress.  Having a connection to something greater than you and connecting.— Steph
Practicing gratitude – start your day by listing–in your mind or in writing–ten things that you are grateful for.  It is really easy to focus on the things that are not going well in your life.  Force yourself to think of the things that are going well and you'll be amazed at how much better you feel.— Steph
 Eat!
— "Have a cookie!!" — @ilovekookies 
— "Eleviv…..Natural supplement that gives me a peace of mind like I have never felt before." — Carla Anderson
— "A good cry or chocolate seems to do the trick." — Kathy McFeeters
I drink tea – Organic Peppermint tea to be exact.  Love the warm, comfort feeling and taste. — Steph
Family Time
— "I go for a walk each afternoon with my children.  Works every time." — @rbarberi 
I laugh – a LOT!  One of my favorite things to do is spend time with my son and that often leads to laughter.  We de-stress each other.— Steph
Physical Activities
— "Punching bag!" — @pamelaharper72 
— "WORKOUT!! :-)" — @fatlosstips4u & @llyounger
— "Trap shooting – yes, I have a shotgun now." — Shawna Knapp Collins 
Yoga is my newest favorite workout.  I've found it is relaxing and healing at the same time.  My son and I also enjoy the Wii Fit balance games for a combination of laughter and workout!— Steph
Cleaning (Really?  Yes, Really!)
— "Cleaning (dishes, dusting, vacuuming, etc.) + organizing + exercise… in that order =)" — @dallisonlee 
— "I scrub-a-dub w/rubber gloves, brush, bucket + fave potion.  Burns calories+sparkling surfaces.  Smells good 2 — @metrozing
Enjoying Our Animals  
— "Walking my dogs – it's a great way to meet the neighbors; I believe we should be more like those relaxed people in colorado and bring our dogs to work." — Shawna Knapp Collins
— I'm with Shawna on this one for sure.  My puppy, Danny, and I go for walks and play catch.  The workout and laughter do a lot for stress relief. 
SHARE YOUR THOUGHTS!!
What do you do to de-stress?  It is so important to have something that works for you! I know my readers would love your ideas.  Please leave your comment below.
Like what you've read?  Then you must share it!  People need de-stressing now!  Choose one of the buttons at the bottom of this post and share away!
Live Fully -- Love Openly -- Laugh Often -- Leverage Your Brilliance -- Connect Authentically -- Get Your Message Out -- Serve with Impact -- Prosper Everyday