Is it possible to really live a life that is stress free and focused on what matters? It is! But you have to be willing to make some choices along the way. How do you even know if you are focusing correctly? How do you know that you are defining things the "right" way.
You cannot live your priorities if you don't know what they are. A few days ago I talked about one way to think about priorities, but today, I'd like to share a different way you can work through the process.
Best selling author and time management pro, David Allen, talks about different "horizons" of focus. The horizons are the different ways we can look at what we do and how we determine what those things are.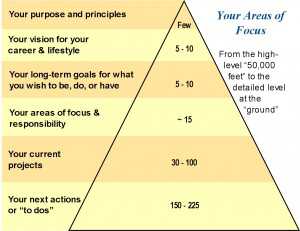 At the highest level, you ultimately have very few items. Why you are what you are and who you are.
The next level you have your vision for what you want your life to be and what you don't want it to be. Your vision is the "light at the end of the tunnel." It is the picture of where you ultimately want to be. It does not talk so much about how or when, but what is or will be.
Your long-term goals define how and when you will be reaching points toward your vision. At any given point, you normally have 5-10 long-term goals. Long-term is defined differently by different people. Some people, think far into the future, while others think about the upcoming year as long-term.
You have about 15 areas of focus and responsibility. These areas could be spiritual, relationship, physical health, mental health related, etc. These are things that you will frequently work to incorporate into your daily life as habits and patterns. For example, exercising 3 times a week, or having time for personal reflection or prayer daily.
A project is defined as "A project is a finite endeavor–having specific start and completion dates–undertaken to create a unique product or service which brings about beneficial change or added value." At any given point, we normally have 30-100 projects. Some of those projects align directly to the levels described above, while others are given to us.
Your next actions or to-dos are the detailed level actions that need to happen to complete a project. We typically have 150-225 tasks at any given point because there are many tasks that correlate to a project and so on.
With all of these things to do how in the world do we not end up feeling overwhelmed?
Systems! The more your brain believes that you have systems to control all of the things that you have to get completed at given points in time the less you will rely on your memory. If you are not relying on your memory, then that same brain power can be focused where ever you want! You are more at ease because you are not continuously thinking about what you want to get done.
Do you agree with this theory? Have you ever looked at your life wants in this way? Share your thoughts by commenting on this posting on my blog!
To your success