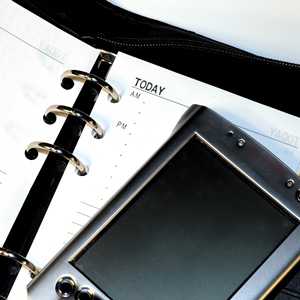 There are many ways to manage your time and activities.  How do you decide? I asked my friends to share their favorite planning tool.  Today's post shares what they had to say.  I'd love it if you would share your thoughts too.
What is your favorite planning/calendar tool and why?
newleafco  @StephCalahan I'm a long-time fan of Now Up to Date for Mac. Of all the calendar tools I know, this one handles tasks the best.
bethagrant  @StephCalahan I use iCal because it is made for right-brained people like me. It's all drag and drop, and I can even drag my to-dos.
AppleEve  @StephCalahan a trusty desk diary and pens (color coded for different types of appointments)
roguereporter  @StephCalahan Microsoft Project. They build submarines with it, but it's scalable and I can surely run a campaign with it. And I do carry a Moleskine notepad in my pocket for running lists and notes. Works every time.
EmiRossiter   I like GCal ToDoist Goalhappy and I created a private blog as a journal — ToDoist http://todoist.com/ GoalHappy http://bit.ly/7QGRSF
JacKrynBoutique  you can never beat the plain and simple.. To-Do list!
pamelahazelton   Franklin Covey – been using that system for 10+ years. Backed up with alarm functions on my #palmpre
 QuietSpacing   custom-set Outlook and sync'd iPhone.  (Steph says: Learn more in Paul's book and DVD have them all – http://ow.ly/2yvXJ)
mprice6  iPad with google calendar that I share with my assistant
marj_asturias   Google Apps for me all the way. It syncs automatically on my Droid, so I never have to bring a paper planner or calendar! 
bluehealerdiary My own, of course! It's simple to keep my schedule, lists and important health notes in one place.  Many Americans are balancing a busy schedule and a chronic illness. I believe I have created an effective way to stay organized and on schedule while tracking symptoms & medication related to chronic illness.  Users no longer have to struggle to recall months worth of symptoms during a doctor's visit. They can carry the to appointments, allowing their physician to review it & connect symptoms w/factors such as stress/other environmental causes.
ReadyAimOrganiz  pencil w/ a good eraser is most important – allows you to be flexible & to keep your calendar pages clutter free (no scratch-outs)
Sherri Hoesel Papich I love my 4-person Dayminder. I can block out time for my children and the person who has to take them to wherever. Never will I forget who has to be home to take whoever wherever! Plus it works wonderfully for both my husband's business …and mine. All at a glance. 
http://www.amazon.com/DayMinder-Recycled-Four-Person-Appointment-G560-00/dp/B003UYOSAG
Natasha A Jones Google calendar, we use it as a family calendar. I added hubby on to view and edit. We also both have android phones and when I add appointments on my phone it syncs online and vice-versa. Since we both have g-mail calendars it automatically adds to the hubby phone/calendar. No paper!!
As you can see, there is no overlap with the tools that my friends use, but they all are happy.  What does that mean for you?  Well, for starters it means that there is no magic bullet.  When you are picking a system for your planning, think about the various features and pick a tool that you are most likely to USE.  If you use it, it is the right tool for you.
For example, if you love to write things down, don't pick an online tool.  For some, just the process of writing can help put the information into your memory and make it a solid commitment.  Give yourself a tool that works for who you are!
On the other hand, if you are on the go all of the time and LOVE your iPhone, then a paper system might not be for you.  If that is the case, you might want to check out the various electronic options out there. 
My friends also shared some links to the tools that they like, so feel free to check them out.
What Do You Do?
OK!  Your turn.  How do you manage your things to do?  Share your thoughts in the blog comment section below (or if you are reading in an RSS reader or email, just click on the article title and then make your comment!)  I know my readers will be interested in what you have to say.
Live Fully -- Love Openly -- Laugh Often -- Leverage Your Brilliance -- Connect Authentically -- Get Your Message Out -- Serve with Impact -- Prosper Everyday