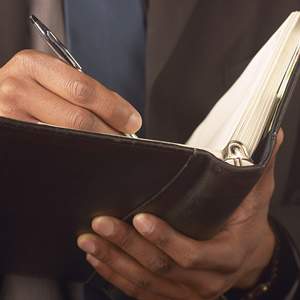 Electronic planners are the thing of today, but are they for you? PDA, Palm, iPhone, Blackberry and more…. Now, I have to admit, I love my AT&T Tilt smart phone. I use it for SO much, but I also know that there are just as many people that don't function well with the electronic stuff.
Select a Planner You Will Actually USE!
I realize that this may be stating the obvious, but based on the clients I have worked with, many people don't do this! Many people will buy a system that looks flashy, or has a lot of tabs, or is a pretty color. Or sometimes you make a purchase because the tool worked for someone else. All of those things are great, but the first question to ask yourself is "Will I use this?" Deep down, you know the answer and it is different for everyone.
Do you have slews of appointments daily? Then a monthly calendar is likely not going to really work for you. However, if you don't have many meetings in a month, a daily view will be way too much paper for what you need. Look at your schedule and be realistic about what you actually do, then pick a planner that matches those activities!
Do you like to write really big, or are you someone that writes really teeny-tiny? Think of that too as you look at the space you have to write.
Do you like to carry around a lot of things in a brief case, or are you better with something in your purse or back pocket? Think about how you actually live and find a planning system that accommodates that lifestyle! For some a pocket planner is excellent, while others will be much better served with one that is portfolio size.
Remember, it is not about what you SHOULD do it is about what you WILL do! The more realistic you are about your life/schedule, the better you will be at picking a planner that will work for you!
More Uses for a Cookbook Stand
Use a cookbook stand to keep your paper planner or reference books open and viewable while using a minimal amount of your desktop workspace.
Identify Your Planner!
Remember to put your name, phone number, email or any other contact info in your day planner. If you lose it, some kind soul will be able to return it to you. When I used to carry a Franklin Planner, I had a Red sharpie marker that I wrote REWARD IF FOUND and highlighted in yellow right on the front and back pages.
Rearrange Your Planner if You are Left Handed
If you are left handed, place your management section pages (eg. goals, key information, note paper, addresses, etc.) at the beginning of your planner. Place your monthly tabs and planner pages after the management section type pages. By doing this, you will raise the pages to the left of the binder rings and it will be easier for you to write on your daily/weekly planning pages.
Use the #/ABC Tabs Most Planning Systems Provide
Rather than writing miscellaneous pieces of information about a project on the daily planning pages (which can spread the information across weeks or months), choose a numbered or alphabetized tab and assign it a project. A project could be an assignment, standard meetings, or recurring topics. File all of the related information behind the tab for easy reference.
Use Color to Keep You On Track
Highlighters now come in multiple colors. Use them to your advantage! Highlight your "A" prioritized tasks and other important appointments so that you know at a glance what must be finished that day.
Use a Good-Quality Pencil
Rather than using a pen, use a good-quality pencil to keep your calendar neat; things get really messy, really fast, when you can't erase or move things around. Consider carrying a mechanical pencil because you will never need to sharpen it, and it can be refilled easily.
What Do You Do? What Type of Planner Do You Use?
So, what is the best calendar/planner for you? What brand do you use and why? Share your thoughts here! Scroll down and use the comment section. I'd love to hear your thoughts.
To your success!