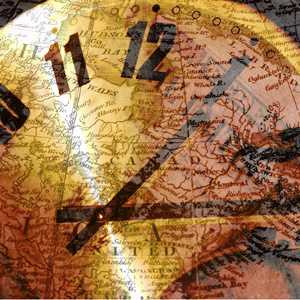 "But there never seems to be enough time
To do the things you want to do
Once you find them
I've looked around enough to know
That you're the one I want to go
Through time with"
I've loved this song since I was young, and still do. It reminds us that time is fragile. Time management has been sung about for years. Here, the late Jim Croce sang about how he wished he could bottle time in his 1973 hit Time in a Bottle. We know we can't really bottle time, but what if we could?
Visualize Your Bottled Time
Croce's song is a love song. He talks about how he would bottle time to spend with the love in his life. Nothing else mattered to him, but to be with that important person. If you could bottle time, what would you do with it? Take a few minutes and just jot that vision down. . . No really! Stop reading this and write down what you would do with that bottled time.
OK, now that you have it written down, what, if any of the things that you wrote down do you actually do today?
Why Wait for Someone to Make Time Bottle Technology?
The number one reason I hear from people for not taking time to get organized or put systems into place in their work or home life is because they "don't have time." One of the first things I share with them when I hear that is the statistic that the average person WASTES 150 HOURS A YEAR just looking for things. Can you imagine what you could do with an additional 150 hours in your life?
Start Today!
Look back at that vision list and identify one thing that you are not spending time on today that you really would like to. Then figure out what is keeping you from doing that activity. Put one or two systems into place and MAKE TIME for what is really important in your life. You'll be glad that you did!
Other "Time in a Bottle" Resources
My thanks to Kristi Royse and Brett Owens for their "Capturing Time" blog post. Great inspiration for my post and some good resources on "time management" too! Check it out to get started on your plan. http://linked2leadership.com/2009/04/27/capturing-time/
What are some "tricks" or "tips" that you use to help you keep focused at work and at home? How do you make sure you have time in your life for the important things? Have you had some success in shaving off unexpected and unwanted tasks as a result of a new habit or behavior? Let me know what has been working for you!
To your success!
For Your Fun — The Lyrics
If I could save time in a bottle
The first thing that Id like to do
Is to save every day
Till eternity passes away
Just to spend them with you
If I could make days last forever
If words could make wishes come true
Id save every day like a treasure and then
Again, I would spend them with you
But there never seems to be enough time
To do the things you want to do
Once you find them
Ive looked around enough to know
That you're the one I want to go
Through time with
If I had a box just for wishes
And dreams that had never come true
The box would be empty
Except for the memory
Of how they were answered by you
But there never seems to be enough time
To do the things you want to do
Once you find them
Ive looked around enough to know
That you're the one I want to go
Through time with