Take a look at the two statements in the picture to the right. 
I find that every time I share the quotes to the right on Facebook or Twitter they get shared and re-shared. 
When I state them in a workshop or keynote I see heads nodding around the room.
Why it that people relate to those statements so much that they share them consistently?
Is because deep down, way in the recesses of our mind; we believe that we are stealing from ourselves?
I don't steal from myself! That would be crazy!
Well of course you don't consciously steal from yourself.  You want to focus on your profits and grow your business.
So, then why can we relate to those statements above?
Today we are busy. Really busy!
Not having enough time in our day is common. We rush from one appointment to another and often don't take time for a vacation or other personal pleasures.
Sometimes overwhelm or over commitment is a misguided attempt to grow our business. We're just not sure where to put our priorities, so we bounce from guru to guru partially implementing the latest fad project or bright shiny object.
Other times, we do too much because we feel empty or unfulfilled inside. Maybe we don't know what we want or we are unhappy with where we are. We feel afraid, fear, lonely, angry or even depressed. We become busy to fill the void, whatever the void is.
Being always on the go can help us feel important and needed. Being busy can be a way of feeling productive. Are we being productive or are we just passing the time with being busy?
Are YOU a Profit Thief?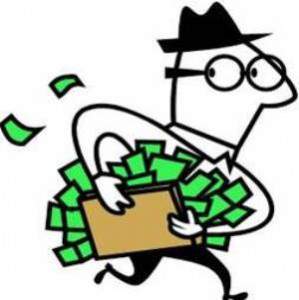 Answer "True" or "False" to the following questions in this quiz to discover if you are getting caught up in unconsciously stealing from yourself.
[   ] I don't have a have a clear vision of what I want my business to look like.
[   ] I don't have a clear income goal and a plan for how to achieve it.
[   ] I work with anyone that will hire me.  I don't have an identifiable and accessible population of people to serve.
[   ] I don't plan my day the night before to make sure that I have no surprises.
[   ] I'm not confident with my priority setting process.
[   ] Procrastination is a problem for me.
[   ] I don't have a plan to monthly, quarterly and annually promote my products and services.
[   ] I often find myself "putting out fires" or focusing on "urgent" things to catch up.
[   ] I'm disorganized and can't find things I need in seconds or misplace items frequently.
[   ] I check my email (social media) more than 5 times a day.
[   ] Even though I'm always busy, I feel like I'm not getting anywhere with my business or life.
[   ] I don't know what my 'prime time' is — the best time of the day for me to work.
[   ] My business would not function well without me. I can't go on vacation for 2 weeks!
[   ] "Me time" What is that? I rarely take time for myself.
[   ] I work on trivial activities while a more important task remains undone.
[   ] Sometimes I feel like a "hamster in a wheel" – always running, but getting nowhere.
[   ] I've given up on my dreams because of other obligations in life.
[   ] I am interrupted multiple times a day by phone calls, people stopping by or my email notification alarm.
[   ] I don't follow a clear time management strategy for my work or myself.
[   ] I don't use lists effectively.
[   ] I am a fantastic multi-tasker.
[   ] I don't many processes in place in my business.
[   ] Even though I am constantly busy and never alone, I feel an overwhelming sense of loneliness inside.
[   ] I have a hard time saying 'no.'
[   ] I find that I am go-go-go from the time I wake up in the morning until I go to sleep at night.
[   ] I do not have a consistent sleeping pattern.
[   ] I take on projects without a clear understanding of how much time or energy they will require.
[   ] I don't use agendas and expected outcomes for the meetings I plan.
[   ] I don't know how to effectively delegate.
[   ] I am confused about my priorities.
[   ] I have difficulty listening or focusing on one thing at a time.
[   ] There are tasks in my operation that only I know how to do.
[   ] I set unrealistic time frames.
[   ] I am a perfectionist.
If you answered "True" to any of these questions, you are stealing from yourself. If you answered "True" to more of these questions than "False," you are probably in need of a time/money intervention!
With all of the demands on our time, it is easy to see how you may feel that you have no control; however, how you spend your time is your choice.
Consider moving out of "busy" and moving into productive – your life and business will thank you for it.
Here are a few thoughts to get you started:
Understand this: You Cannot Manage Time
"Don't be fooled by the calendar. There are only as many days in the year as you make use of. One man gets only a week's value out of a year while another man gets a full year's value out of a week." ~ Charles Richards
There will always be 365 days in a year (yes, with the exception of leap year) and 24 hours in a day. You can't manage that. What you can manage is your choice of how you use that time.
Start by Understanding Where Your Time Goes
Have you ever tracked your time? Are you developing productive habits that grow your business, that UNLEASH your brilliance and UPLEVEL profit potential; or are you spending a lot of time on things that keep you busy, but don't produce results?
If your business is not going where you want it to go, track your time for a week. By tracking your time, you become aware of pockets that you can use differently. It makes you accountable.
Get Real with Yourself
There are a number of ways that we can justify being busy, but it is critical for you to really test those justifications.
For example, if you are spending hours daily on Twitter and Facebook telling yourself that you are "growing your business" through building relationships, you are stealing from yourself.
Don't get me wrong, social media is a fantastic way to grow your business; in fact, I my business has made money from every social media site we actively participate. The trick is to make sure that the time you spend is actually focused on a goal for your business.
Look at each activity on your time log and give it the "sniff" test. If you were talking to a good friend or client and they told you they were doing the same activities, what would you tell them?
Decide What You Want to Change
Now that you have identified the activities that are "busy," identify what you are going to do differently. Get really specific here.
The more detailed you are in this part of the process, the more clear you can identify what you want for your business and your life, the better the chances are that you will achieve it.
For example, if you are doing a lot of administrative activities in your business that are keeping you from your profit making activities, maybe it is time to delegate.
Be careful not to get caught up in the "how" at this point. Just identify what needs to change. At one point I did this exercise and I found that I was spending over 30 minutes a day just on downloading and uploading files for my daily podcast!
I would certainly record this podcast, but the activities of posting it to my social media sites or getting it out to my RSS subscription or to iTunes certainly did not have to be done by me. That one realization saved me 2.5 hours a week!
Ask for Help
Often, when we have changes that we want to make with ourselves or our business we have a difficult time seeing what we need to do first, second or third. This is where a coach or accountability partner can really make a difference for you.
Outside perspectives help you see things that you can't see on your own and can give you the push you need to move forward. Take responsibility for your success and find someone that can support you to reaching your goal.
If you are not reaching your business goals, if your business is not as profitable as you would like, if you are not spending time in your personal life like you would want, if you are not achieving your vision, then why is your calendar and to-do list so full? Why are you so "busy?" Break down those barriers and claim your productivity and stop stealing from your profitability today.
Not happy with the way you answered the quiz today? Want to know how you can turn things around?
Schedule your time/money breakthrough session today. 
Live Fully -- Love Openly -- Laugh Often -- Leverage Your Brilliance -- Connect Authentically -- Get Your Message Out -- Serve with Impact -- Prosper Everyday