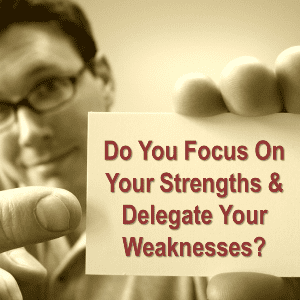 Where do you spend your time? Where you choose to spend your time directly reflects the financial outcome for your business.
Today, I'll focus on ways that you can evaluate and adjust how to spend your time so that you can positively impact your bottom line.
What are your strengths & what are your weaknesses?
When working in your business, there are a number of activities that we need to do. Some we are fully suite for, others we are not. Try this exercise. I have listed various areas to consider. Take the time to list these out. Now, I'm not expecting you to take hours to do this. I'm looking for your gut reaction. Ten minutes max.
What things do you do naturally that take little effort?
What things do you not do well?
What activities do you find you procrastinate
Even if you know how or are good at it when you do the activity, for some reason you find that you just don't do it.
What activities do you dread to do?
I have one client that processes payroll and schedules a full day for the activity. He hates going into the office on those days and mentally shuts down on those days – thus, payroll takes even longer.
What business activities are revenue generating?
There are activities in your business that will lead to more business and there are others that are necessary, but more operational in nature. Here, list the activities that are necessary to make money in your business.
Where are you spending your time?
Out of the listing you have made from the questions above, highlight the activities that you are doing consistently. Be realistic!
What is the cost?
As you look at the listing that you highlighted, what patterns do you see? Where are you spending your time that just does not make sense? Not sure? Use our cost calculator to determine what your decisions are costing you.
Share your findings
Tell me about where you found you spend your time that you shouldn't. I'll help you find how you can delegate the activities so that you can free up your time and enjoy your life!
Where have you delegated tasks? What worked? What didn't? Share your experiences here! I'm sure that my other readers would appreciate your insight and perspective!