The practice of gratitude as a growth tool for happiness has been in the mainstream for years. Long-term studies have even attributed the practice of ongoing gratitude to greater success in business, better health, and increased sports performance.
"Feeling gratitude and not expressing it is like wrapping a present and not giving it." ~William Arthur Ward
However, sometimes it is difficult to sustain an attitude of gratitude. In order for gratitude to meet its full potential in our lives, it HAS to be more than just a concept that we use during the holidays.
You see, practicing gratitude is not about "rose-colored glasses" or ignoring the bad things in life. Life happens and sometimes it is fantastic and sometimes it is downright crappy. I'm not asking you to ignore the realities that come to you.
When you practice gratitude — focusing on what you have vs what you don't — you give yourself the opportunity to see life as a blessing. In fact, your whole outlook on a day can significantly change!
If you have not put a gratitude habit into your daily practice, maybe now is the time to start!
"Feeling gratitude and not expressing it is like wrapping a present and not giving it." ~William Arthur Ward
What are you grateful for? As you think through the items, people, events, etc. in your life you might consider
colorful spring flowers
the ability to read
friends who will listen and understand where you are coming from
chocolate
things that make you laugh
warm jackets
butterflies on a summer day
our health
What's on your list?
5 Ways to Practice Gratitude
1 – Keep a gratitude journal where you list things from your day for which you are thankful. You choose how frequently to write in the journal. It could be daily, weekly, monthly, or any other combination you want. When you are first getting started it may be a good idea to write more frequently so that you can create your new habit.
2 – Make a gratitude board by drawing or gluing pictures into a collage.
3 – Challenge yourself to find the hidden blessings in challenging situations that you face.
4 – Develop a family dinner time routine of expressing gratitude together before you eat.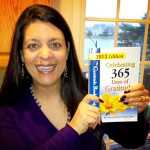 5 – Read real-life stories of how others express their gratitude. I was able to participate in a great collaborative project called Celebrating 365 Days of Gratitude. I contributed a story about my son and how he helped me through a very difficult time in my life.
When I began a daily gratitude practice I started perceiving the world very differently than I had before. As you practice, an inner shift begins to occur, and you may be delighted to see how other things in your life and business shift too.
Related Resources
Read other posts on gratitude.
What You Focus on Grows in Your Life
What are you grateful for today?
What are you excited about because you know it will make the world a better place?
What lights your deep internal flame and fills you with love?
*Disclosure: Some of the links on this page are affiliate links. That means that I may get a small thank you commission (at no additional cost to you) if you choose to purchase a product from the company mentioned. I only refer you to programs that are run by people I personally know or I have participated in, but please use your judgment to decide if this is right for you. If you would prefer that I not get that, feel free to Google the company and purchase directly.