You MUST CONFIRM your email address
before I can send you the download.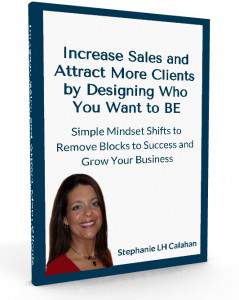 Here is what to do right now:
Step #1
Go check your email and confirm your subscription RIGHT NOW.
Look for an email from me (Stephanie Calahan) with this subject line:  RESPONSE REQUIRED: Confirm Your Request for the Download
Step # 2 
Let's Connect!
Remember: Confirm your request for the download RIGHT NOW!
Go look in your inbox now for the confirmation message.  Follow the simple instructions to confirm your subscription to the download. I look forward to hearing what you think about it!
Increase Sales and Attract More Clients by Designing Who You Want to BE
"It's not about 'finding yourself' — it's about designing yourself." ~ Alice Lutz
Everything you desire, that you don't have, lies outside the realm of what you already know.  Meaning, if you want to make more money, have better relationships, attract the right clients, get more visibility for your business, have massive sales, etc. you'll have to start doing some new things to achieve it.
"Doing" and "BEing" are truly combined, yet we often only put focus on the doing part. What if, at the end of a busy day or busy week, you could review and see that what you did helped you get clear on your strengths? What if your relationships grew and you were living a more balanced life while seeing amazing results? What if your sales doubled or tripled as a result?
So, if you're hitting roadblocks, undercharging, feeling guilty asking for money, or resisting getting more visible, this guide will help you.
Ready to get started?  Great! Go confirm the email so you can get the guide!
Fill me in on how you are doing with this guide or just about life in general.  I'm interested in getting to know you.