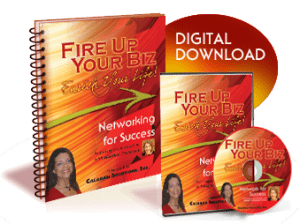 Attention Coaches, Healers, Authors, Speakers and Small Business Owners
Transform Your Relationships,
Transform Your Business


Networking for Success
The strength of your network can literally mean the difference between success and failure. Get your networking right and the business will start pouring in. Get it wrong and it just becomes a demoralizing time-consuming activity.
The rules of traditional networking have been changed by  social networking – have you adapted your networking strategy to harness the power of on-line AND offline networking? In this interview, Stephanie Calahan and Heather Townsend will explain how Heather managed to grow a six figure business (and secure a lucrative book deal in the process), by building a powerful network – without any prior sales or marketing experience.
You will discover:
The biggest mistakes people make when networking and how to avoid making them yourself
How to identify and build relationships with a handful of people who can really make a positive difference to your business
How to leverage your network to win more business, without it sucking up all your precious time
How to identify what you want to achieve with your networking
Know how your networking is going to help you achieve your goals.
Sign up today and you will receive:
Downloadable MP3 recording of Networking for Success
Networking for Success Action guide
Networking Goal Setting Worksheet
"A-ha's – The 5 levels of networking, from awareness>>collaboration. I sent out several tweets with her most unique tips! Thanks – just great, as usual." ~ Sue West Owner at Sue West, Organizing Coach
"Great networking tips Heather – it's not about making a sale out of the gate, but about building relationships. Glad I was able to attend!  I'm giving a presentation about "Unleashing the Power of LinkedIn" – will add one of Heather's pointers that she discussed in today's call. Thanks." ~ Debra Jason, The Write Direction
"The session today with Heather was so informative!  I took lots of notes. One that particularly stood out is that you are in the way of your own success – change your actions and your mindset! Great info! Thanks for sharing!" ~ Carol Deckert, Networking Coach
"Rather than walk around commenting on the weather at networking events and opportunties, I will now have something specific and intentional…choosing someone whom I haven't met and engaging them in conversation, asking questions with only a 10 second response from me. Then I will follow-up using Heather's levels as a guide. Thank you for this opportunity to hear Heather speak and answer questions to move me forward in my business." ~ Linda Rennie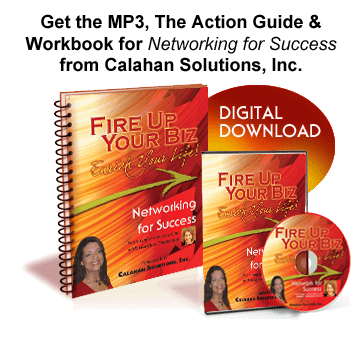 Heather Townsend
helps professionals achieve business and career success using social media and networking. She is the author of the best-selling book on business networking – The Financial Times Guide To Business Networking. (75 five-star reviews on Amazon)    

Stephanie LH Calahan
Get Your Message Out! Stephanie LH Calahan helps purpose-driven entrepreneurs (coaches, holistic health practitioners,  authors, speakers and other amazing messengers) create ease and more profit and purpose in their business by providing them with proven visibility and business optimization strategies so they can get their message out, live fully, serve with impact and prosper everyday.